Ever wondered how wonderful an automatic and top-notch coffee machine like Jura A1 can be? Go through the Jura A1 Review that we've published freshly, and make your decision.
A coffee maker machine is a significant part of your kitchen for sure. And if you're super sensitive about your home interior, you want the coffee machine to be a beauty-enhancer.
If that's what you have in mind about the next coffee brewer machine in mind, this Jura A1 review deserves some serious attention of yours.
Jura A1 review is one of the finest looking single cup coffee machine in the market. Apart from a superb brewing quality, it can be the best part to look at in your kitchen or dining.
For breaking down its features and specs into bite-size chunks, let's get going through the whole post.
Editors Choice: Jura A1 Review 2021
Whom Is This Product For?
The is a high-end single cup coffee brewer machine that comes with great aesthetics, automatic controller and supreme taste-standards. Therefore, it's a perfect fit for people who are-
In search of a coffee machine that serves at a minimal time period.

Obsessed with great interface and design in kitchen utilities.

Automize everything they could, including the coffee machine.

Can't compromise the design and quality for the price.
Jura A1 Overview
Jura A1 Superautomatic coffee maker is a complete coffees solution for your home or office. With a touch of your fingertip, it will deliver super delicious espresso coffee. Not only espresso, but it's also the master chef of other top-notch coffee flavors such as ristretto as well.
The best part of this coffee machine is a sleek and stylish design. For sure, this had been one of the convincing reasons for such positive vibes around the users of Jura A1 as well.
The basic interface of Jura A1 is in Piano Balck color along with a set of sleek and clean lines. At the top side, you'll find a visible bean container and a control panel. Throughout the whole body, you'll get to see silver-colored details to add up more to its visual beauty.
Summary line? It's a really pleasant thing to look at.
However, if you don't like the Piano-black appearance of this model we're talking about, there is a white version as well.
Apart from the design and aesthetics, it's super compact in size. It measures 9 inches in width, 17.5 inches in depth and 12.7 inches in height.
Now, let's taste and talk about the coffee that comes out brewed by Jura A1.
As the first impression, Jura's exclusive brewing technique will serve you with a nuanced flavor with every shot. With the bean hopper, you will get an aroma preservation seal. Which is responsible to preserve the freshness and original smell in the coffee it serves.
To make the operation fast and quick, Jura had turned every tone they can.
As an example, there is the touch technology with illuminated icons that will lead you to your desired cup size and coffee flavor in seconds. This type of technology will also prompt up regular machine maintenance for the user.
To make the serving time even faster, Jura had implemented a conical burr guide. So, the grinding time will be way less than what you expected.
Each time it saves several minutes of waiting for the coffee. Awesome, right?
The choice of coffee grind and strength is made all automatic. there is the programmable technology in Jura A1 which will let you chose from three cup sizes- Ristretto, Espresso or Regular coffee. Apart from the flavor, you can also adjust the dosage level as well. There are two dosage levels of 8 grams and 10 grams in each cup.
Having a look at all those smart technology and aesthetics, you might worry about the energy consumption of this machine. But let us assure you that, it won't eat up any more energy than what a regular coffee machine would do.
After five minutes of non-used state, it will automatically switch to energy saving mode. And after two more hours of the non-used state, it will completely turn off. On top of that al, there is a zero energy switch which makes sure that- the machine doesn't use any energy at all when not in use.
They call it the futuristic smart coffee brewing machine, there are solid grounds behind that. What do you think?  
Highlighted Features
A touch-enabled control panel with intuitive symbol display.

Thermoblock(patented) heating system for quick and granular operation.

Three kinds of programmable specialities to control coffee strength.

15 bar pressure along with pulse extraction process.

Ultra-compact in size that takes less space in your kitchen countertop.

Aroma preserver chamber to serve you the fresh taste.

Conical burr grinder for fast and precise grinding.

Super efficient in terms of energy consumption.
Pros
A sleek and elegant appearance.

Completely automatic along with touch control.

Eco-friendly and energy-efficient design.

Shows up maintenance needs through the touch screen.

Faster grinding and serving time.

Compatible with both small mugs and large travel mugs.

Nuanced flavor in each shot.

Small and compact in size.

Height-adjustable coffee spout.
Cons
Quite heavy to shift from places to places.

Quite of a high-end pick in terms of price.
What Is The Difference Between A Jura A1 vs Jura e8?
In the industry of coffee makers, Jura had held quite an elegant position. Comparing to both of their Jura A1 and Jura E8 models, we can see a blend of elegant design and supreme functionality.
Here are the sole differences between these two models-
Jura had set a benchmark of producing an ultra-elegant design of coffee maker machines. The A1 comes with a Piano black outfit along with silver details. On the other hand, the E8 comes with a chrome-finished black outfit.
However, if you're looking for some diversion, you may go with a white colored version that A1 offers as an alternative model. By the way, E8 doesn't provide any white-themed model.
Both A1 and E8 has intuitive display along with the interface. In the case of the first model, the display is a quite symbolic type. On the other hand, the second model had got a TFT color display. Throughout both of the displays, you can see the visuals and states of operation.
Both A1 and E8 are programmable. The A1 is programmable to create three specialities and coffee strengths as well. On the other hand, the E8 is a bit advanced in this term. It has got 12 programmable specialities. Where you can control coffee strength up to 3 levels, it can be controlled up to 8 levels in case of E8.    
To give your coffee an elegant touch, Jura had provided aroma grinder in both of the machines. In A1, you'll have it with a Clearyl blue filter. But E8 gives you some more advantages with the aroma grinder.
In the aroma grinder of E8, you'll have 6 different levels of aroma choices, along with a pre-brew smart aroma system.
Although the size and the weight are not that many important facts if you're limited with the space on your kitchen countertop, that are important facts for sure.
The A1 comes in a size of 20.5 x 12.7 x 18.6 inches, and the weight is near around 25 pounds. On the other hand, E8 comes in a more compact size of  17.3 x 11 x 13.8 inches, along with a weight of around 22 pounds.
Clearly, E8 is a more convenient and compact model to fit within narrow spaces.
The last fact that we want to bring under the limelight is the price point. As you've seen so far, E8 comes with a number of additional features and enhanced controllability compared to A1. So the price point goes up.
If you're looking forward to a cheaper model with still an automated functionalities, Jura A1 should be your go-to choice.
How Do You Clean, Setup And Maintain A Jura A1?
Maintaining an automatic cleaning machine takes a whole lot of efforts. And Jura A1 is not an exception. As the right maintenance guarantee an optimal coffee result, you should acknowledge the best ways to do that.
Before rolling onto the cleaning part, we would like to show you the importance and benefits of proper maintenance in case of Jura A1-
It keeps the coffee outcome hygienic and fat-free.

Extra build ups that take place on the bottom, are taken care of through regular maintenance.

It enhances the longevity of the machine.
Jura A1 Manual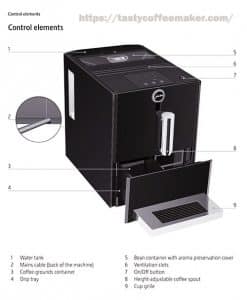 However, we're discussing the process of cleaning Jura A1 into two different points-
Cleaning the Coffee Fats and Spouts
On regular uses, any machine builds up coffee fats and spouts on the reservoir and the pipes as well. To get done with the cleaning process, the best way is to use a 2-phase cleaning tablet.
This cleaning tablet is really reliable, as it directly acts on the coffee fats and spouts that builds onto the bottom of the reservoir.
While cleaning with this tablet, keep it in mind to turn off the machine and to keep it in ambient temperature.
Apart from cleaning the fats and spouts, it cleans up the deposits on the pipes as well. And using it once can last for at least a month of using over again.
Some Tips Regarding Jura A1 Maintenance
While maintaining the product, keep these few facts in mind-
Use original cleaner and maintenance products.

Make sure to maintain complete hygiene while opting into the inside part of the product.

Make sure you know the roles of each of the parts inside.
Customers feedback
'I've bought up the Jura A1 for a week now, and here is what I've got so far-
The startup is pretty quick. It also brews up the coffee too fast. I can easily program it for any cup size starting from 3oz and 8oz. Seems pretty fine for me.'
The coffee tastes better than it smells. It also gives you the option to customize the hardness, the flavor and the size of course. Pretty much lovable, as I'm a deadly fan of taste coffee!'
The FAQ (Frequently Ask Question)
Q Can Jura A1 intake ground coffee?
Q  Is the water tank of Jura A1 removable?
Yes, you can remove the water tank whenever you need maintenance.
Q Can it automatically switch to energy savings mood?
After a certain time period, it will switch on to energy saving mood, and turn off eventually.
Q  Is the grinder able to take any manual interruption?
To achieve finer or coarser grind, you can adjust it accordingly.
Verdict
We know that the Jura A1 is quite expensive if you think about other single cup coffee serving machines. But think about how exclusive outlook and materialistic strength it comes with. And add the touch technology on top of that. You'll certainly realize the real worth of it.
Thanks for being till the entire Jura A1 Review.
You May Also Read:
My name Is Stephane Carol. Founder and Senior Editor And Products Analyst Expert at http://tastycoffeemaker.store/. I found It Most probably November 2018. I love my kitty cat. Her name Is "LUPY" Read More