Meeting both ends of price and functionality for single cup makers is hard. But this Keurig K55 review 2020 might bring a number of wonders for you!
It's not all the time when you'll crave a bulk-in-size, dual-cup maker. If your essence is a way too personal, you might be looking for the best single cup maker machine within budget.
Keeping that in mind, we've done extensive research on Keurig K55- the single-cup maker that everyone is talking about. And the final copy of our entire is this Keurig K55 review.
If you are also a person with a soft corner for Keurig K55 in mind, this post is a must-read for you.
As long as single cup makers are concerned, the market is full of scammy models where you can't expect to meet the price-quality ratio. Let's check out whether K55 is one of them or not-
Who is this for?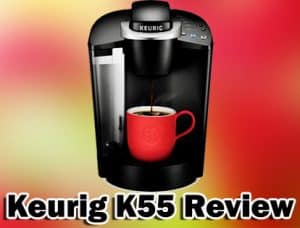 The specialty of this is, it can brew a single cup of super-smooth, refreshing within a short time span. So, you can say, it's for users who are not in need of frequent servings.
Read Full Customers Reviews On Amazon
Here is a list of potential users of Keurig K55-
Houses with not-so-frequent essence of servings.
Home offices and personalized office chambers.
Non-commercial uses with less frequent demands.
lovers who're looking for a budget pick.
Let's hover onto the detailed breakdowns of the features and benefits-
Overview
thing, what does the design gives us?
Well, if you're tired of seeing stainless steel appliances around your kitchen, the black/rhubarb K55 would be a splash of freshness. You can still find stainless steel parts, but that is only under the hood.
As per our observations regarding single cup makers is concerned- most of them take about 100-150 seconds to serve a cup of coffee. Keurig K55, on the other hand, had been able to take down it into 90 seconds.
If you want to give a try to Ice or Ice instead of regular ones, it can dispense it within the same time as well. All you have to do is, pour it directly over ice.
Also, if you are looking forward to trying different flavors of each day, it will give you a strong hand in that. You can certainly, improve your making skills over time.
Cup sizes that are compatible with the K55 are- 6 ounces, 8 ounces, and 10 ounces. Although it doesn't have a carafe option, you can use K-cups to bring some change in taste.
Controlling the machine is made super easy and navigatable. As an example, there are 5 indicators and 5 buttons to understand each action and operation. The buttons include Power, Auto shut down, and 3 cup size selectors.
The water tank contains a size of 48 ounces, which is unique. Because single-cup brewer machines can rarely offer such water can size within such price range. On top of that, it's made of -grade BPA, and easily removable as well.
One of the biggest impression points of Keurig K55  is, it can be placed and equipped with all essential parts within just a few minutes. With the implementation of the 'Use and Care Guide' provided with the box, even a timer can do it with ease.
The last but not least, we're super impressed with the pocket-friendly price. In fact, any user who has to meet both ends of price and quality will fall for this maker.
Now, let's talk about a few drawbacks.
Unlike many double cup machines that run on 1100-1200W, this one takes a massive power of 1500W. So, frequent use of this machine would raise the bill a bit.
There is a buzz about the descaling frequency of this maker, and many users expressed dissatisfaction about it. We can't disagree with them indeed. But there is a very detailed descaling video provided by the manufacturer in this regard. That following, even a layman can understand the whole process.
Highlighted Features
Ready to brew multiple cup sizes like 6, 8, and 10 ounces.
48oz big water reservoir made out of -grade BPA.
You can brew 6 cups of large size with each refill of the reservoir.
Comes along with 4 K-cup pods variety pack.
Automatic timer and auto shut off/turn on the feature.
Simple button control with cup size selectors.
Easy to install with the help of given instructions.
Superfast brewing time, less than 90 seconds.
the machine is super easy with the removable drip tray.
Compatible within Americal standard household.
Pros
A unique outlook instead of regular metal finish.
Easy to brew and serve several cups one after another.
large water reservoir takes a less frequent refill.
Intelligently set up the on-off button.
Extremely budget-friendly.
Also, a removable drip tray.
Cons
Eats up a lot of power(1500W).
Requires frequent descaling.
What Is The Difference Between A Keuring K50 and K55 Keurig?
If you have an eye on the brand- Keurig, you might be aware of two of their most talked-about coffee maker models- K50 and K55. To give you a clear insight on what differs between them, keep reading-
Both K55 and K50 are almost identical in terms of visual outlook. But as Keurig is concerned with providing a better price-quality ratio day by day, there are some differences for sure. Below, we've tried to mark them out-
The Design and Aesthetics
K55 is the newer version and K50 is the older sibling. To make things easier for the user, K55 had been more compact than K50, and the weight goes up as well. The weight of K55 and K50 is 12 pounds and 7.6 pounds consecutively.
The material in case of both of them is in a Rhubarb Red color. Although the color looks way more classy than typical Red, and the Matte Black had added on the fact.
The controls and buttons and nicely placed to be easy to access. To have access even in the darkness, the buttons are able to up while functioning.
In terms of dimensions, both of their sizes are 9.8″x 13″ x 13.3″. So it's a tie here. Both of them also have the same kind of brew sizes- 6oz, 8oz, and 10oz. If you talk about the reservoir size, that also seems to be identical(480z).
Brewing Time and Temperature
When you're about to have more than one cup of coffee for you and your friends, the back-to-back brewing time matters a lot.
In the case of K50, the time to brew the second cup of coffee is around 1.5 minutes. As Keurig had been concerned enough about the issue, they've kept this timespan under 1 minute in K55. And you would love that feature.
in case of brewing temperature, both of the sibling models are the same with a brewing temperature of 89-degree Celsius.
The
Keeping the outlook aside, if you hover inside the models, the would be the thing to look for.
The K50 has a simple but meshed which is neither too great nor so poor. We've seen users complain about the frequency of changing the K50 a lot.
On the other hand, K55 had got charcoal(activated carbon), which is able to provide smoother and more delightful coffee. For such addition, you might have to pay some extra money, but that's completely worth it, right?
How Do You Clean A Keurig k55?
If you want to keep the awesome maker brewing for you, you have to keep an eye on the cleanings of it. So, it's a compulsory step to descale and clean it on a regular basis.
As a potential user of K55, you should have a look at the steps below to understand how much hardship you've to go through for cleaning it up.
thing, here are the items you need-
water.
Clean and dry cloth.
White.
Water.
As you've got all of them in hand, here are the steps-
Step 1: Unplug and Dissemble
, of all, unplug the machine and remove the water reservoir in the place. Eventually, remove the lid, mug stand, K-cup holder with essential . In the manual, you should have proper instructions to get done with this process. We're not going to details here.
Step 1: Wipe Out the Surfaces
Now, take a dry cloth and start wiping out the parts one by one. Don't forget to be extra careful with the area around the pod holder. As this is the place where and granules are collected, it's important to make it clean.
In case, you may go for damp and wet cloth instead of dry cloth.
Step 1: Clean the Reservoir with and Water
We're up to the reservoir right now. Fill up half off the reservoir with , and the rest half with water. Now, run the machine and start the brew cycle. Don't put the K-cup and let the reservoir be empty.
This rinsing process will take out all the lime and scale buildup in the reservoir.
Step 1: Rinse Again with Soapy Water
Now, rinse all the parts with plain water this time. While rinsing the reservoir with plain water, make sure to take out all the residual taste. Otherwise, it might ruin the when brewed.
Step 1: Put the Parts Back in Place
We're almost done with the K55 machine. Now, make sure to leave any residual component at any part o the machine. And start assembling it up. Put the parts in their places, take 15-20 minutes to dry them up, and put it back on power.
Customers Feedback
'When I got over with the previous K50, I thought about K55. But the extra money kept me hesitating. But finally, I'm glad that I bought it. Although there is not any major difference in size, the perks and performances between the two have some clear differences.'
'For three years now, I've been using Keurig makers, and I've got three of them in my home. But K55 seems to be the best of them all so far. The best part of mine is, the silence it maintains while brewing.'
'I used to be not so great of a before. But K55 turned me into one. I love the taste, the fast brewing time, and of course, the design.'
'This is my time with a maker, and I am quite happy. It looks very classy on my kitchen counter, makes delicious and also super easy  to operate.'
The FAQ (Frequently Ask Question)
How long and how easy it is to prepare in Keurig K55?
With the super-easy using process, you can brew a nice cup of within less than 1 minute.
What is the tallest size of mugs to use on this machine?
The tallest kind of mugs you can use is 7.1".
How can I dispense hot water only from the machine?
You can do that by setting the brewer and choosing the size of the cup. Don't insert any pod for the cup of hot water.
Can Keurig K55 produce ground ?
Yes, Keurig K55 is able to do that. In that case, you need to use the K-cup reusable.
Can I use all kinds of reusable cups along with this machine?
Yes, you can. But you have kept the size factors in mind. Remember that the tallest cup size for this machine is 7.1".
The Verdict
We're much obliged that you've gone through the whole post and reached the dead bottom. So far, you should have a crystal-clear idea on the usability, functionality, design, and lastly, the worth of the Keurig K55 brewing machine. If you find it a good fit for your budget, we can give our veto to this magnificent maker machine.
You May Also Like To Read: