Are you looking for the best espresso beans? Well, we have good news, we're here to help you pick the right one with our expert reviews and buying guide.
So, getting an espresso right might not be as easy as you think it is. Although getting the best taste can depend on the accurate measurements of all the ingredients, the most important factor is the type of coffee beans.
Because let's admit it, no matter what sort of fancy coffee machine you may be using, you simply won't be able to achieve that rich taste without the right espresso beans.
So, whether you are just a beginner brewer or a die-hard espresso lover who loves a good cuppa, read on to learn more as we tell you everything you need to know about finding the best coffee beans for espresso out there.
Espresso Beans Comparison Table 2020
[amazon table="1281″]
Top Rated Best Espresso Beans 2020 Reviews
Stumptown has gathered quite a following for its medium roast blend of coffee. This blend has 5 to 8 fully-washed coffees which are built into a complex profile. The beans vary in size and color and this blend of coffee can easily be used in any espresso.
It is perfect for espressos. A complete shot from an espresso would give you a shot of espresso with a thick layer of crema. In fact, the crema is so thick it can fill up one-third of a cup.
The tasting note profile card mentions that there is a hint of cherry, but if anything you are bound to pick up a slight blackberry aftertaste. There is also a bright taste on the initial sip. But as it cools down, you will pick up the cherry after taste. In fact, the after-taste is quite dark and is more apparent as the shot cools down.
The taste is believed to be good by most, but it could be improved a bit further. However, it is still a solid choice and gives you lots of crema.  You can get the perfect grind quite easily and the flavor is a little close to being bitter but it does have dark chocolatey after taste. The acidity is also good on the blend.
However, you won't pick up anything more than cherry or blackberry taste. Because of all that crema, we can safely conclude that it's a pretty rich shot. The aroma of the shot is really good however, the taste does not match up to the aroma. Stumptown Hairbender is a very versatile blend because it tastes pretty good even when not taken as an espresso.
Pros
Has dark chocolate after taste.
Gives off a very pleasing aroma.
There are hints of cherry and blackberry.
Forms a thick crema on top of your espresso.
Cons
The beans are not very consistent and come in different sizes and colors.
It's a bit bitter.
The flavor does not live up to the aroma you get after brewing.
Death Wish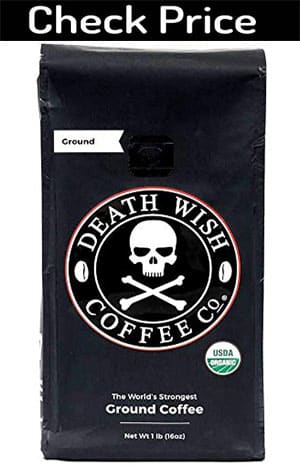 If you are someone who craves caffeine and would definitely not settle for anything but the strongest roast in the world, then the Death Wish Coffee is probably what you have been looking for all your life! Death Wish themselves claim to make the strongest whole bean coffee in the world, and they have remained true to their words so far.
The caffeine content in their beans has been painstakingly intensified through careful selection of beans and appropriately roasting coffee beans so that it does an outstanding job of keeping you awake and energized.
So, it should be a no-brainer that this blend of coffee isn't suitable for anyone with a heart condition, or cannot take anything with high caffeine content.
Therefore, if you are one of those people, stay away from this brand of coffee! A mixture of beans sourced from different regions is used in this blend, particularly from India and Peru.
Mostly Arabica and Robusta beans have been used in this blend. To truly bring out the bold and strong flavors, the company roasts them at a French roast level.
You will be able to pick up a very bold and earthy aroma as soon as the hot water hits the ground coffee. There is a hint of and dark as well as you take your sip. You can even additionally pick up a dark cherry after taste.
There is a slight bitterness to this coffee, which is particularly unavoidable with a French roast. However, it would seem that the bitterness is there to complement its dark and bold taste. Not many people might like this blend, but if you are in the market for the strongest espresso, this would be your best choice!
Pros
It gives you a good caffeine boost and keeps you awake.
One of these should keep you energized for the entire day. You can cut costs by not brewing 3 cups every day.
Rich in flavor with hints of blackberry and even cherry.
One of the strongest and boldest coffees in the world.
Cons
Not suitable for people who have a heart condition or are sensitive to too high caffeine content products.
Slightly bitter.
You cannot drink it late in the day if you do not want to mess up your sleep cycle.
There is a lack of pleasant and sweeter taste notes.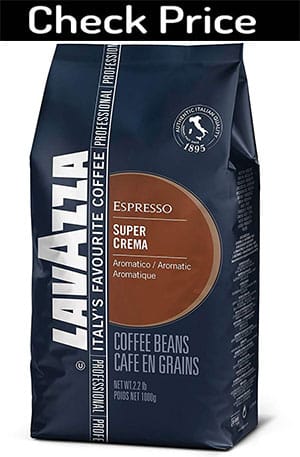 This may not be the Lavazza entry on this list, but it definitely deserves a spot as one of the best out there right now. Another thing to keep in mind is that the Super Crema variant has not been sourced from one region only.
Lavazza sources 70% washed Arabica beans from Brazil and Central America. Other than that, washed Robusta beans also come from Indonesia. The blend is just right, as the Arabica beans are known for their acidity which is also complemented by the sweetness they often provide.
Other than that, the washed Indonesian Robusta beans are superior to Robusta beans from Vietnam and Uganda, which are more commonly found in most espresso blends in the market. Because of the quality, Robusta beans are used and the taste notes of this coffee are not bitter and woody at all.
Instead, you will instantly pick up a chocolatey aftertaste as soon as you take your sip. One of the most outstanding aspects of the Lavazza Super Crema is its ability to appeal to all types of people. Therefore, it is not surprising that this blend, in particular, has obtained so much mainstream success.
It can provide a classic Italian experience without breaking the bank. However, you may need a bit of work to dial in correctly to obtain the perfect brew. It has a medium roast and is perfect for those who want to try out Lavazza's offerings for the time.
Pros
It is a pretty strong .
Brewing properly will result in a thick and beautiful crema.
It's robust and has amazing flavors.
Gives a wonderful Italian experience.
Good quality washed beans give wonderful flavors.
Cons
Not brewing it well will result in a burnt aftertaste.
Works best with a burr grinder, which some people may not have.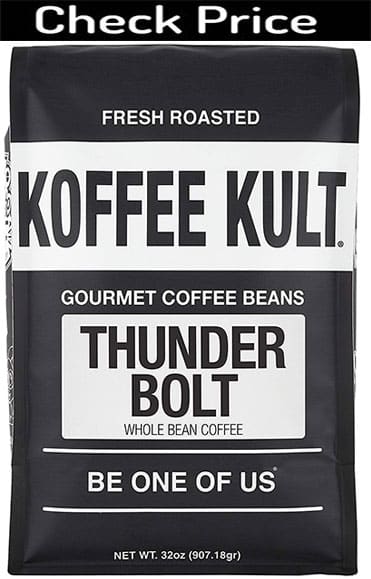 The Koffee Cult is a fairly dark roast and is quite bold according to many people. In fact, t's perfect for those who want high caffeine content beans. This company is based in Hollywood, Florida. The mix ratio they ask for is two tablespoons of ground beans for every nine ounces of water.
They also suggest using filtered water to make sure none of the tastes from the water goes into the coffee. The blend consists of Colombian and Brazilian Beans and its French Roast.
The beans are sundried at an altitude of 1066 feet. Koffee Cult recommends going for French press when brewing, to bring out its strong and bold flavors. Once the coffee is ready, you will quickly notice that it has a nice and rich scent to it.
The espresso beans aren't mass-produced, and the beans are processed and meticulously so that they retain their signature rich flavors and aroma. Also, the company strives to satisfy its customers to the fullest. They will go as far as to offer you a full refund on your if for some reason it does not live up to your expectation.
Pros
The flavor of the is quite rich.
Forms crème.
No burnt aftertaste.
Low on bitterness.
We can seal the package again after opening.
Cons
Sometimes rocks can be found in the package.
Beans may lack consistency.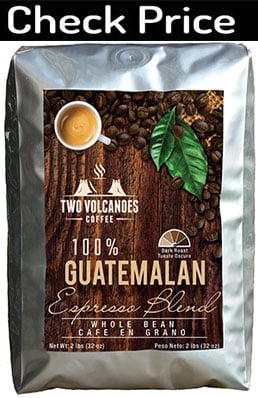 This is another popular brand of coffee that originates from Guatemala as the name suggests. The blend consists of beans that are all grown, processed, and packaged in the same region. Also, the company does not waste any time; the beans are shipped immediately so that the coffee retains its freshness for the longest period of time once packaged.
Once you open the package, the sweet aroma of one of the best coffee beans will hit your nose.
These ground beans are truly something to be excited about and are the favorite of many coffee enthusiasts. Since the Arabica and Robusta beans used in this blend all originate from one region, the company can keep the freshness and flavor of the beans intact for a long time after packaging.
The coffee is suitable for French press coffee due to its coarse ground. Finally, when you take your sip, you will pick up the woody, smoky notes.
The company is named Two Volcanoes because the is grown in the mountains near Tajana and Tajumulco volcanoes. In fact, the volcanic soil in the surrounding areas is very fertile and helps produce beans of superior quality. The roast is extremely dark and strong in flavor, however, unlike some other coffees on the list, does not have very high caffeine content.
So, one of the major complaints about this blend is that the beans are a bit oily. Despite the company's attempt to provide superior quality, they have still managed to keep this blend affordable.
Pros
Preserves freshness and flavor by growing and processing in a single region.
Superior quality beans due to being grown on fertile volcanic soil.
The dark roast blend has hints of and wooden flavors.
Great tantalizing aroma.
Low on bitterness.
Cons
Beans are a bit oily.
A bit over-roasted. Some may even believe it to be a bit burnt.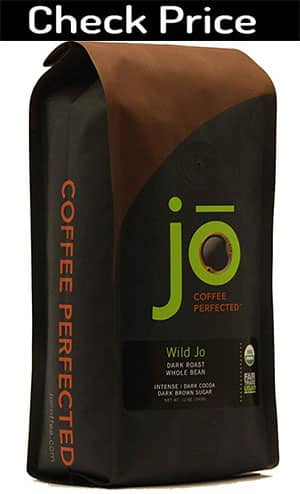 The last coffee that we have in this review is the Wild Jo Coffee. This is yet another that comes with very strong notes of dark brown chocolate. In fact, you will be surprised to learn that no extra flavorings or preservatives are added to this coffee.
These French roast beans will surely bring a smile to your every time you make a cup for yourself. So what are you waiting for?  Allow Wild Jo's to transport you into the world of artisan craft coffee and experience Arabica like never before.
Pros
Shiny and dark beans with just the right amount of flavor and texture and a rich taste
No bitterness despite the beans being very dark
Perfect for providing a caffeine kick in the mornings
A well-balanced flavor that can work well with either hot or even iced
Leaves a chocolatey aftertaste in the mouth
Another great feature is that it is USDA certified
Complies to the Fair Trade policies
Member of the professional Roaster's Guild and the Specialty Association
Cons
The roast isn't dark enough and lacks flavor and tastes bland
People who like strong won't like this
Use of too much cream will result in the loss of flavor
Might be considered a medium roast for some people and not exactly a dark roast
Burnt smell sometimes
What You Should Know Before Buying Right Espresso Beans
There are actually a lot of things to consider before you buy the beans for your espresso-making needs. Don't worry, we have brought together a few pointers that will always guide you when you want to find the right coffee beans for espresso. So let's start!
Choose your favorite bean type:

Coffee drinkers around the world know that you can choose between Arabia and Robusta. You can actually like either of the two, but most espresso lovers choose Arabica over Robusta due to its signature flavor and strong aroma. Usually, you'll find that Robusta lacks flavor so we use it to make instant coffee. However, some espresso lovers feel that Robusta helps to form better crema and also produces a lot of caffeine in your espresso. Also, one other reason why you could say that Robusta is popular is that it is a cheaper option, while Arabica is richer in flavor and fragrance when it comes to espresso. As for Arabica, seasoned drinkers will instantly tell you about its delicious fruity taste with a hint of sweetness, and also a higher level of acidity. This is why it fares better amongst experienced drinkers.
Decide on the type of roast that you prefer:

In coffee, the types of roast can be broadly categorized into light roast, medium roast, medium-dark roasts, and dark roasts. The taste of your espresso definitely depends a lot on how much the beans are roasted. You see, even in cafes, you will always find that a special type of roast is used specifically for espresso as regular simply doesn't cut it.

Single-origin vs Blends:

The choice between single-origin and blends is a huge one. While both types can be used depending upon the type of taste that you prefer and how much you're willing to spend on your espresso, this factor will significantly affect the taste of your espresso. In most cases, people choose blends over single-origin mainly due to the price, which not everyone can easily afford.

The Roast Date:

You might think that coffee has an infinite expiry date or that it may simply last for a long time. However, just like any other product, coffee too has a limited shelf life, which affects its taste and fragrance by a great deal if you exceed the time within which it should have been consumed. Especially in the case of espresso, the roast date plays a very crucial role since it always tastes better only when the grounds are fresh.
Proper storage:

So, simply purchasing the right beans doesn't mean that your job's all done. In fact, it's not even half done if you don't even know how to store it in a way that will ensure its freshness. Keeping it in an airtight container is the best bet as this way the beans will remain fresh for a long time as they are away from exposure to air. Exposure to light and heat also affects the freshness of your coffee beans, so it is better to store them in a place that is dry, cool, and away from sunlight. However, if the roaster packages the coffee beans in an airtight container, then you don't really need to worry much about them getting stale due to exposure to the elements. Your beans won't have the risk of becoming stale as long as the packet remains properly sealed.
Frequently Asked Questions
Q: Which beans to use for espresso?
You can use any kind of beans for espresso since there is no hard and fast rule for which to use. However, in most cases, Arabica and Robusta are the two basic types that are most popular for espresso.
Q: Can I use dark roast for espresso?
Dark roast is actually ideal for espresso since the main purpose of the espresso is to provide a strong caffeine kick. Usually, we prefer dark beans for espresso to bring in that strong flavor. Furthermore, it also aids in crema formation and helps to cut out the creaminess of excess cream.
Q: Can you use French roast beans for espresso?
French roast usually roasts the beans for longer and so it could work well for espresso. However, any darker roast would be suitable for espresso as long as they provide a strong flavor and smooth finish.
Conclusion
We would like to assure you that your search for fine quality and rich texture is officially over. Now that you have learned quite a bit about what to look for when you are searching for beans that make a perfect cup of espresso, we'd suggest you try out some of the beans that we have listed here. With unique blends, and rich aromatic essences waiting for you, let yourself unwind and be immersed in a unique experience of flavors and fragrances that will leave a lasting impression for quite some time.
You May Also Like To Read: