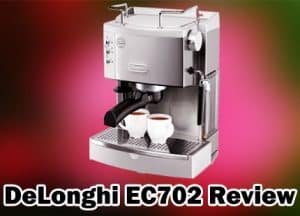 If you're in search of a beginner-friendly cappuccino or espresso machine within budget, DeLonghi EC702 Review is entirely written for you. Check out whether it is worth your bucks or not.
Introduction
When it comes to a primer kitchen item like Espresso Coffee maker, none wants to compromise a single bit of facilities. In case you're stuck within a budget as well, it may be a hard nut to crack.
Top Rated Coffee Maker DeLonghi EC702 Review For 2020
Special Features
Input power: 1100 watt | Product Dimensions: 11 x 9.1 x 11.6 inches | Heating Element: Stainless Steel Boiler | Removable Water Tank: 44 oz | Cappuccino System: Advanced Manual Frother
However, DeLonghi EC702 can be a fine exception.
DeLonghi EC702 espresso maker is born to skyrocket the experience of a consumer-grade coffee brewing. With a few patented technology by the own brand. And that along, the whole operational effort is taken down into a minimum.
However, our intention to craft this whole post is to give you a hands-on DeLonghi EC702 review. Let's hope on the wagon and check that out-
Highlighted features
A small footprint and stainless steel case.

Pump drove 15 bars of pressures for any kind of coffee grind.

Water level indication with 44oz capacity in the water tank.

Convenient and patented dual filter holder for seamless serving.

Easy to use frothier to craft lattes or cappuccino.

The self-priming operation for less waiting for the coffee.

A couple of thermostats to ensure dual brewing at a different temperature.

Strong, uniform and fast boiler made of high-quality steel.

Comes with a cup warming tray to keep them warm.
Pros
Sturdy and attractive outlook.

Compact, small footprint to occupy less space.

Quick heat up for frequent servings.

Pod-friendly design without any adaption.

Pulls on a very hot coffee shot.

Requires almost to operational skill.

Light in weight and easy to carry around.

No muss, fuss or confusing specs.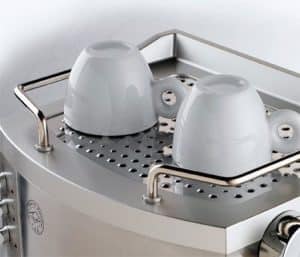 Cons
No auto shut-off or turn on.

After a long gap, the first few shots won't taste good.

No solenoid valves for easy cleanup.   
Whom Is This Product For?
The DeLonghi EC702 is an entry level espresso machine for people who're not so much experience with such makers. As the operations are super-easy to adopt, and takes minimal maintenance, we found such users as the idea one for this product.
Including them, here is the full list of potential users of DeLonghi EC702-
First time users with espresso coffee makers.

Non-commercial, household uses.

Frequent, regualr uses in corportate or business spaces.

People who're looking for a budget-friendly pick with all primer qualities.
In a nutshell, any kind of non-commercial uses where your machine doesn't have to deal with tons of production loads, DeLonghi EC702 is a right fit.
Being said that, let's look up to the product overview-  
Product Overview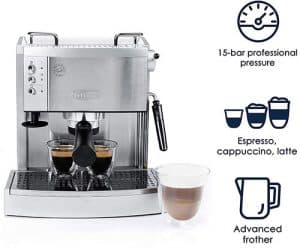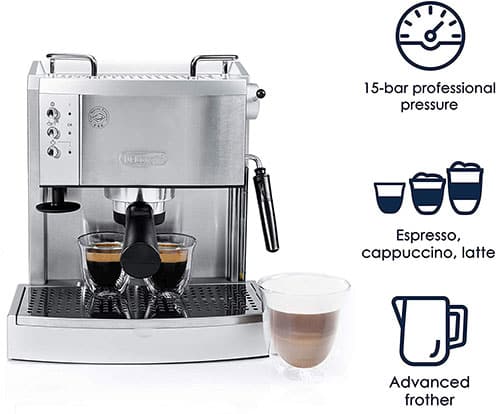 Let's start with discussing how it looks and how much space it occupies.
The DeLonghi ec702 2020 occupies a small footprint(11.25 x 8.15 inches), it will fit within any size of a kitchen. Being made of a sturdy and attractive stainless steel outlook, the appearance is also praiseworthy.
One of the best parts of this machine that made it stand out from the crowd is- it's convenient frother. While we've seen tons of coffee maker machines to be nozzles or steaming wands to put in front of the machine, this frother of DeLonghi ec702 makes quite some differences.
Unlike typical nozzles or wands, it won't get in the way. So, you can brew your favorite coffee shop without any worry about the pitcher getting in the way. On top of that, the frother is able to produce a nice foam as well.
To control the steaming and espresso brewing functions, there are two different thermostats. What it means is, you can prepare a coffee shot and steam for another one at the same time. Makes sense, right?
Because of the same reasons, the chance of over-extraction with this machine is almost zero. If you want to serve coffee from this machine for any guests and events, this feature makes quite some sense, right?
There is a patented technology of dual-function filter holder, which is another thing we loved about this maker. Throughout it, you can choose both convenient ground coffee or pods at the same time. So, you don't have to stick to only one and enjoy the best of both worlds together.
As the boiler is made out of stainless steel, the heating capacity is pretty fast and uniform. On top of that, it has a self-priming operation, and you don't have to wait for a long time for a perfectly blended cup of coffee.
The water tank is of a size of 44oz, with visible water level indicator. So, you will exactly know when to refill it and don't run out of service. But one tiny precaution is there- you should keep around a place where the temperature is more than 32-degree Fahrenheit.
In case you need to have any expertise for troubleshooting any of the incidents, there is live customer support that DeLonghi provides.
What Is The Difference Between A DeLonghi EC702 VS ECP3630?
As one of the pioneers of the coffee brewing machine industry, De'Longhi had the pride of having a number of popular coffee maker machines. Two of the most popular picks from the array are- Delonghi EC701 and ECP3630.
At this point of the Delonghi EC702 review, we would like to point out some major differences between this machine and the popular ECP3630. If you've been in a dilemma to chose between these two, this section might give you hand-
Putting both fo the models side by side, we can see some significant differences between EC702 and ECP3630.
ECP3630 is quite compact and slimmer in size from the other one. So, if you need to get a coffee maker for short and narrow housing space, you might go for ECP3630. But if you have enough space, you might go to the other one.
Both of the models come in a stainless steel structure, and that is quite rugged and sturdy. Both models use 15 bar pressure, and both models have separate thermostats to control the steam pressure and water temperature.
The EC702 uses an automatic self-primer which lets you use pods or ground coffee with the patented filter holder design. Both of the models have manual fothers, which is pretty helpful when making espresso through the machines.
There is a one-touch controlling DeLonghi EC702. So, making cups after cups of coffee is way easier and faster with this machine. The one-touch control will stop the coffee flow automatically.
The ability to be energy-efficient is way more in EC702 in comparison to the other ECP3630. There is an energy saver design to give you some but in the electricity bill. For non-household uses like office, workspaces, we highly prefer EC702 instead of ECP3630.
Another fact that sets EC702 apart from the other ECP3630. The reservoir capacity of EC702 is 44 ounces, where the other one has 37 ounces in total. So the refilling frequency will be more in case of ECP3630.  
Our overall feedback is, the Delonghi EC702 is a way smarter and better pick if you consider the functionality and controls. It's easier to control, efficient with the power.
How Do You Clean, Setup And Maintain A DeLonghi EC702?
Cleaning as an espresso machine is a must to do part of its maintenance. So, we're going to give you an insight on how to clean Delonghi EC702-
Before we go to the steps- let's answer the question of how frequently you should clean up it?
Well, it's advised to clean it up after every one week of regular use. IN this way, no grounds or build-up can go on inside the chambers. Also, remember that no parts of a coffee machine are actually dishwasher safe. So it's best to go for hand cleaning.
Now, here are the steps-
Step 1: Descale the machine
To begin with the process, you need to learn how to descale the machine in the first place. Using Urnex DezCal, it's recommended to descale the machine. Also, there are some other recommendations while descaling the machine-
Make sure to attach the portafilter when running the descaler.

Prevent the water from preventing all over.

Clean the group head when descaling the basket.
Step 2: Clear out the water condensation
In EC702, water containment and water condensations are very likely to take place. Do deal with that, purge the frothing wand before using it to diminish the steam. To make sure that it's clean inside, do this purging process once again.
Make sure to cover up your hands, as the steam can cause burn on your hand.
Step 3: Run the steamer
After you're done with purging, run the steamer for a few minutes. Do that until the gurgling sound is stopped. Now, clean out the nozzle of the steamer with soap water. Make sure to take out the nozzle before cleaning.
Finally, rinse out the portafilter handle after every shot.
Step 4: Set everything back and check the machine
As you're done with descaling and cleaning, put back everything that you've dissembled. Make sure to connect each part securely, as Delonghi EC702 has quite complicated setup inside.
Customers Feedback
'Before ending up with Delonghi EC702, I did my research for more than 2 months. After looking up several brands and models, I am pleased with what am getting now with this model. Starting from the packaging to the design, the controls, and the service- everything seems to be up to the mark. Certainly, recommend it to anyone who's looking up for buying a new coffee machine.'
'Previously, we used to have a Mr Coffee espresso machine, which broke after a couple of years of use. Then, we decided to go for an extra mile and purchase Delonghi EC702. Although many users over the forums convinced me that, unless I invest 3X more money, I won't get a good one. But after about 3 years of experience with EC702, we're highly pleased, and recommend to anyone else with confidence.'
'If you're likely to make up your own Starbucks coffee at home, I would definitely put a thumbs up for EC702. It's convenient, super comfy and supplies superb quality coffee within a minimal time span. Although it has a little mess with cleanup, I don't mind it as long as it's working '
FAQ (Frequently Ask Question)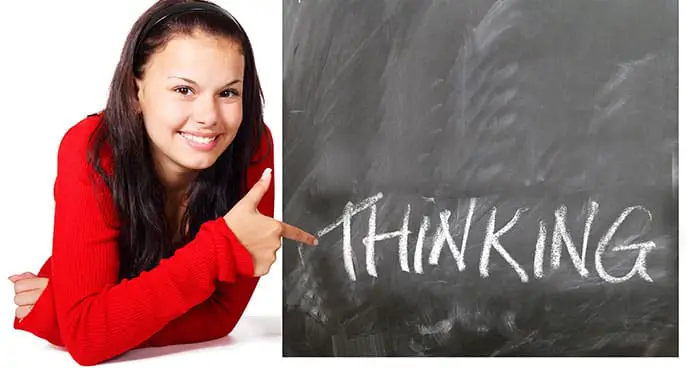 Of course. As a matter of fact, the 15 bar pressure is likely to create an authentic shot of espresso of rich crema.
How niche and fine foam can this espresso create?
As there is a convenient frother, the amount and grain of foam will be nice enough for any consumer.
Can I brew a shot and steam for the next shot at the same time?
Yes. As there is are two separate thermostats, you can brew and steam at the same time for two consecutive cups of coffee.
Is there any chance of over-extraction?
Verdict
As a verdict, we would label it as one of the highly convenient espresso machines you can find within a price point under 300. Comparing all the perks and features to the few drawbacks it comes with, it is worth the money.
That being said, you have to be careful enough about regular maintenance of the machine. And you're not also advised to use in for commercial purposes, as the production capacity is not that much frequent.
But for non-commercial and household uses, DeLonghi EC702 is a perfect pick for the money.
My name Is Stephane Carol. Founder and Senior Editor And Products Analyst Expert at http://tastycoffeemaker.store/. I found It Most probably November 2018. I love my kitty cat. Her name Is "LUPY" Read More