When it comes to a delicious shot of espresso, very few of the people are used to do it for themselves. Instead of making it at home in an expensive machine, they are more likely to visit a small coffee shop.
And that's where your business comes on the stage.
So, you are about to start your coffee shop startup, and looking for a budget-friendly super automatic machine, right?
In case the answer is yes, this post is the one that you should read till the bottom. We've explained what super automatic machines are, how you can recognize good quality models and some quick recommendations from our side.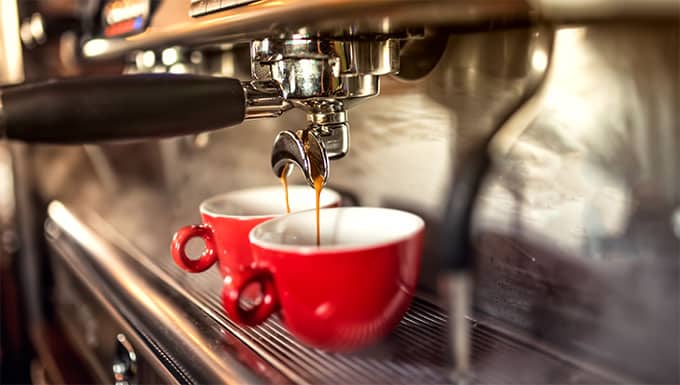 What Is A Super Automatic Espresso Machine?
In terms of automation and brewing capacity, super automatic coffee makers top the list of three. The other two types of coffee makers are- Semi-automatic coffee makers and Automatic coffee makers.
Let's go through a list of specialties that you can see in none other than a super automatic coffee espresso machine–
They are very efficient. If provided with the right program, they can produce more than 10 servings at one single attempt.

As far as convenience is concerned, there are no other alternatives to super-automatic coffee makers.

Super-automatics can produce froth, steam, and even milk. From macchiatos to cappuccinos, from lattes to mochas- super-automatic coffee maker has got it all in the basket.

They are completely automatic, yeah, just like the name sounds. So, it does require minimal manual effort. So, no one has to stay on standby while the machine is brewing coffee for your customers.
Overall, if you want to serve the customers of your coffee shop, there are hardly any alternatives to a super-automatic coffee shop, however.
That being said, let's move to the next section, where we've noted down some of the crucial buying factors of a super-automatic coffee maker machine-
How To Buy The Right Super Automatic Espresso Maker?
While choosing the best super-automatic coffee maker out of all the models in the market, keep these facts in mind-
Every super-automatic model comes with one-touch brewing and some other cool features. But they need some sort of manual programming as well. As an example- the dispenser height, the brewing quality, the choice of coffee brews, etc.
If you're spending good money after the maker machine, make sure it comes with maximum programmability.
How About the Customization?
There are two dimensions in this discussion. The first one is- how many customization options are there in the machine? And the second one is- what is the degree of customization of each of the options.
The good quality super-automatic coffee machine would let you have 5-6 customizations. And each of them would have more than 3-4 degrees of intensity and flavor.
How Much Maintenace Does It Need?
Automatic and super-automatic machines do need a lot of maintenance. And there is no way that you can overlook them. But to make sure that you don't have to have a stuff standby just after it, you should seek the least maintenance job possible.
Before looking forward to a model, do some research about the descaling process, how much time it takes, and how frequently you have to do this descaling. If everything looks fine, go for it.
Super-automatic coffee maker machines are quite complicated in terms of structure. There are a number of electrical, and a whole lot of mechanical parts in there.
But as you're using it for a commercial purpose, you've to use it in heavy load. That might affect the lifetime and functionality of these machines. In those cases, you need to call up a service guy from the company you've sourced it.
When it comes to service quality, different companies have different reputations. But the good news is, you can understand their after-sale service quality from online communities and forums.
Make sure to do this portion of the research to avoid further embarrassments.
Is The price-quality Ratio Good?
Another obvious thing to look at is the price. We understand that you don't want to compromise with the quality for the money. But spending a fortune for something that isn't worth it doesn't also sound good, right?
As long as coffee shop startups are considered, it's very possible to find out a model that lies within a price range of 1000. In the market, there are more than a few grands of price tags. But those models take a good cut of money just for the design and structure of the machines.
3 Best Super Automatic Espresso Machines for Coffee Shop
This is the part of the article where we'll be noting down 3 of the best models as per our research is concerned. Here you go-
Delonghi ECAM28465M Super Automatic Espresso Machine
Single touch latte crema system.

13 adjustable settings for the coffee style.

Stainless steel made the structure.

Sensor-touch intuitive control panel.

Requires less maintenance.

Consistent brewing time.

Customized cup size.

Sets the temperature according to the user's preference.
Jura IMPRESSA C65
Simple use requires no skill at all.

Height-adjustable coffee spout.

Provides espresso with fine foam frother.

Compact dimension takes less space.

Comes with a great visual impression.
Saeco Intelia Deluxe
H
D8759/47
Minimalistic panel layout with a compact footprint.

Big buttons to control, larger display.

Quite an intuitive program design for coffee.

Maintains good temperature while serving.

A reasonable price point.