Keurig K50 Review: Features, Pros & Cons
When it comes to single-serve coffee machines, there are a few names that you can always count on. And for many of us, Keurig means coffee – especially when time is of the essence. There is a single-serve coffee machine to suit everyone, thanks to the company's extensive line of single-serve coffee machines.
It's not always simple to decide the best solution for you. The Keurig K50 All-Purpose Coffee Maker is stylish, small, and contemporary equipment. Here's a detailed review of this fantastic machine!
Specifications
Brand: Keurig
Name: Keurig K50
Water Reservoir: 40 oz capacity
Brew Volume: 6 oz, 8 oz, and 10 oz
Size: 9.8 inches x 13.3 inches x 13 inches
Weight: 7.5 lbs
Keurig K50 Overview
The Keurig K50 is one of the company's flagship brewers, and it was presented as an improvement to the B50, even though the two models have identical specifications. The K50 has been superseded by the K-Classic, which has many of the same features as the K50 but is no longer available.
It comes in two distinct colors and is compatible with the Keurig Classic series K-cup reusable coffee filter, allowing you to prepare your own ground coffee to your liking. The coffee is normally at a good temperature, approximately 192 to 193 degrees Fahrenheit, which Keurig considers to be the ideal temperature.
The 48 oz water reservoir was well received by the majority of customers. You'll like the fact that it's detachable and large enough to lessen your workload. As a consequence, you won't have to replace the reservoir as frequently. No Strength Control or Temp Control
Its Auto-On/Off functionality is also regarded as an excellent characteristic. It saves energy by turning off your coffee maker after two hours of inactivity. This will save you time brewing and will turn off the coffee maker once the procedure is finished. It has a retractable drip tray that is designed to suit travel cups.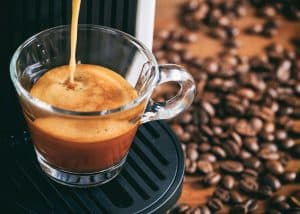 Keep Reading:
You may enjoy any coffee flavor from all of your favorite brands, such as Green Mountain Coffee, Starbucks, Lipton, and Simple Coffee, tea, hot chocolate, and many more. Because the K50 lacks a pod scanning device, it is compatible with all varieties of k-cups for brewing coffee. There are several cup amounts and k-cup pod sizes available.
Each cup of coffee for your visitors may be brewed in less than a minute. This Keurig machine works with a variety of k-cup pods and reusable coffee filters. It is available in six distinct cup sizes: six, eight, and ten ounces. These are the most commonly used k-cup pod brew sizes.
It is a basic and uncomplicated machine with a few parts that need to be cleaned. Because of its basic design, you can easily clean every part. When it's time to descale the coffee machine, it sends out a maintenance warning. This aids with the removal of calcium deposits that have accumulated on the maker's sides and corners over time.
It should be cleaned carefully since it will harm your coffee maker over time and may also compromise its performance owing to low performance. Use a dry, soapy, lint-free cloth to clean it. The key differences between the K50 and K-Classic are slightly bigger brew volumes (6, 8, and 10 oz) and an enhanced brewing system that ensures you're brewing with the latest sophisticated technology from Keurig for hotter, stronger beverages. You may also see four model numbers that appear to be identical: K40, K45, K50, and K55.
What's the difference?
The K40 and K45 were initially introduced as Keurig's K-Elite brewers. Both came with the K-Cup variety pack, but the K45 additionally included a water filtration beginning kit. Keurig decided to rename the K40 and K45 K-Elite Brewers as the K50 and K55 K-Classic.
80 percent of those who own this model were pleased, with nearly 70 percent being extremely pleased. Around 12% of owners were dissatisfied, though in many cases, this was due to the fact that the Keurig K50 was very different from the older machines they had owned.
Pros
Brews other drinks aside coffee like hot cocoa or tea.
Works with over 70 different K-cups and access to 500 flavors
Brews coffee fast to reduce your waiting time
Has an auto on/off function to save power
Has a removable drip trip for ease of use
Cons
This model doesn't come with any frills
It's not compatible with the K-mugs which offer 12, 14, and 16 ounces
The K50 model has been said to make noise throughout usage
Features
The Keurig K50 coffee maker features a sleek appearance, with an easy-to-use design, a good selection of brew sizes, and a decent-sized water reservoir. Let's take a closer look at some of the key features of this device to help you make an informed choice.
Inquire with a K-200 user about how it feels to have access to a variety of K-pods. Variable K-cups provide you with quick access to pods and a wide range of flavors. The Keurig K50 can handle any bean or flavor you can think of. Spicy is also available for your delight. Are you thirsty on a hot summer afternoon? With a few ice cubes in the cup, you'll have ultimate tranquility brewed in a cup.!
If you go to a coffee shop and order a specialty chai latte, you may spend quite some time waiting for the barista to call your name. Alternatively, you may click a button on your Keurig K50 and have the same drink in less than a minute, without having to worry about missing your order because of a little distraction. The Keurig benefit is that the majority of the effort went into the creation of the K-cup, which means you're only a button push away from coffee, tea, or hot chocolate.
You snuggle into your favorite recliner with a book and a cup of coffee in hand, only to remember that you haven't turned off your K50. Don't be concerned. The K50 will switch off after 30 seconds of inactivity. This implies that the most difficult decision you'll have to make is which K-cup to utilize. The coffee maker will look after itself.
One of the most appealing characteristics is its automated shut-off capability. As a result, while you're not using your brewer, you're free to do other things. Keep note that this option may not be available in subsequent Keurig brewers.
The Keurig K50 sports a great display panel and a button-pressing control method. You will be able to select the brew mode, kind of, and see it on the screen with this.
Is the Keurig K50 for you?
If you can get a good deal on the discontinued K50, it's still a good choice on investment. It has no outdated technology that makes it difficult to use and is still a decent model. The K55 is a nice alternative if you like the K50 but want the accompanying water filter beginning kit. However, we strongly recommend getting the K-Classic, which is currently in production, is supported by Keurig and has all of the capabilities available on K40-K55 brewers.
Frequently Asked Questions
Does it offer ice coffee?
Yes, you can actually. When you make regular coffee, you can add ice cubes to it and drink. You can brew it over some powdered ice as well.
Do the k-carafe & k-mug pods get along with K50?
No, it is not compatible with these muds since this model was discontinued and newer models have been made.
Is it only compatible with k2.0 pods?
No. Even though it isn't compatible with k2.0 pods, it is still compatible with over 80 other k-cups. You can enjoy your coffee in any of these.
How long does it take to brew?
It usually takes less than a minute to brew a hot cup of coffee with the K50 coffee maker.
Final Verdict
To sum up, the Keurig K50 is a traditional coffee maker that gets the job done. It is also a fast worker that only allows for single-serving coffee, no carafe. The compatibility of this vintage model with K-cups from other roasters is one of the numerous benefits of using it. In all, the Keurig K50 is worthwhile to own.
You May Also Like To Read: