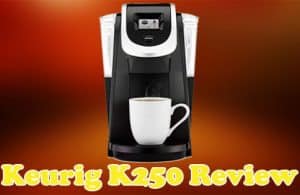 Keurig literally rules the world of home brewing. It has manufactured many models of brewers since it arrived in this brewer world.
In every model, it has added some useful features. In doing that, it needed to sacrifice some of the former attributes.
Now, can the K250 do the job?
Is it worth spending your precious bucks on it?
Is this another masterpiece from Keurig like some of the previous models?
You will get your answers along with some other valuable information in this article, dear readers.
We won't leave anything worth mentioning behind.
Let's learn about our brewer then.
Popular Coffee Maker Keurig K250 Review For 2020
Special Features
Water Reservoir: 40 oz | Dimensions: 13.6" H x 8.9" W x 13.8" D | Strength control: Yes
Keurig K250 comes with so many new features. The versatility in color, the cool feature of strength control, the fat range of cup sizes are bound to impress you.
However, the makers limited its pod compatibility to the Keurig 2.0 exclusively. It was a rather bold move that earned them a lot of criticism.
While reducing the size of the machine they had to shrink the water reservoir as well. This leads to some concerns about brewing a carafe.
Having said this, Keurig K250 is a modern maker that sees the job done to perfection
The K250 has a very stylish design. To make the more appealing it comes in 8 different colors.
From blue to sweet Red, it exhibits the most gorgeous colors. There's always black for people who love it classy.
These mesmerizing colors give the kitchen's interior design distinctiveness.
This machine sure looks cool. We know when it comes to stuff related to foods & drinks, looks do matter.
Various Options for Strength and Size of Brew
Basically, all the Keurig brewers are single-serving specialists. Here, the K250 has come with the facility to brew a whole carafe.
The display of this brewer presents you with options to choose the brew mode.
You can go around enjoying some fat cups of coffee whenever you feel like by choosing the larger brew sizes.
The machine also allows the brew to be chosen with some serious strength.
This strength control thing has been a fine new addition to the newer models of Keurig brewers.
If you are a bit dizzy on a Monday morning, you can grab a strong cup of coffee for yourself.
The word 'slim' these days fits perfectly in anything that can be sized up. Why our K250 brewer should be of any exception?
Keeping this in mind, the Keurig designers have gone through a lot of hard work to give their brewer a stylishly slim appearance.
This maker fits anywhere perfectly. For it needs only 11" broad space for it's 9" wide".
From dorm rooms to offices, from dining rooms to kitchens; the K250 looks out of context nowhere.
Pros
Perfectly slim to save you some space
Top class setting
strength control and size selection option available
Variety of colors
Cons
The reservoir is a bit small
Doesn't brew with anything other than Keurig K2.0-line pods
No auto-shutoff
Specifications
Brand: Keurig
: Keurig K250 brewer
Size: 13.7" x 9" x 15"
Mass: 7.5 pounds
Input: 110V
Sizes of Brew: K-Carafe, 4, 6, 8, 10 ounces
Water Container: 40 oz.
Read Customers Review On Amazon
Customer Feedback
We surfed the internet to see what the customers had to say about the K250. We are going to summarize their reviews.
Over the years, Keurig has earned some criticism from the eco-friendly folks for its imperishable pods getting piled up in the garbage. This issue involving solid waste has been a setback for Keurig.
Fascinating enough, the Keurig brewer users seem to often overlook this issue.
The customers are pretty much all into the fancy features Keurig provides.
This time, it was the color phenomenon. Users were found impressed with the colors. These colors even were liked by users who weren't that pleased with their brewer.
Users were found much excited commenting over the color thing than the other features like brewing ability.
No doubt, people were happy with the brewing options. They were pleased that their brewer could brew a whole carafe in addition to spot-on single cups.
Users looked impressed with the fact that one could enjoy a strong cup of coffee while the next cup is a regular one.
Also:
Being a famous brand, Keurig often receives a lot of complaints. Most of these are about the exclusiveness of the K2.0 pods.
People generally didn't like the idea of getting stuck with a particular line of pods.
Those who wanted to experiment on using pods other than 2.0 ones had to buy pods separately.
Speaking of which, clogging is no stranger to this K250 brewer. And if the size of your ground is wrong, that clogging just becomes more usual.
It was noted that the brewer is a noisy little thing. Being a very fast working machine, it ends up making a lot of noise.
It appeared to some users that the K250 got rid of too much space in the water reservoir to give itself a slim look. If they wanted to make some big carafes, they had to refill the reservoir frequently.
Having said all this, customers liked the perfection in brewing the K250 provided.
The variety of options it provides is very fascinating.
How to Setup and Maintain
A Keurig brewer is very simple to deal with. The processes are:
Setup
Let's detail these processes.
Step 1: Take the brewer out of the box & plug the brewer in:
Take the tapes and wrappings off the machine and plug them in where you want. Preserve the manual somewhere safe so that you can learn the manufacturer's instructions later.
Step 2: Separate the water reservoir & bathe it with and water:
Take out the reservoir & rinse it thoroughly. Use with water.
Now, take a soft to smoothly rub the surface of it.
Make sure to clean the water entry point as well.
Step 3: Have your charcoal purified:
Keep the under fresh flowing water. Rinse properly for a minute or so. Soak it by placing it inside a container that's full of water. Keep it soaked for 3 minutes.
Get any remaining loose objects off the surface by rubbing them mildly.
Step 4: Have the fit in the holder & place the whole thing inside the container:
The holder contains a couple of parts:
A holder for the lower part of the pod
A handle that gets well-adjusted with the lower part of the holder
Install the on the bottom. Then have it placed in the container with the handle over it.
They will snap in just perfectly.
Step 5: Completely fill in the tank with water & make the water preheated:
Following a press on the power button, the preheating gets done in 1-4 minutes.
Step 6: Placement of the mug
Lift the handle and place a mug on the drip tray. Next, lower the handle.
Step 7: Select a big brew size on the display
Inside of the machine will be purified and all the impurities will be expelled.
There you have your brewer all set to perform.
Brewing
Step 1: Have your coffee mug placed on the drip tray.
Step 2: Give your k-pod its placement in the pod holder following the handle lifted up. Then put the handle back in its position.
Step 3: Select the BREW option.
Thus, you will have your coffee brewed in no time.
Give the needles, water tank, drip tray, and pod settings a
Frequency: Once every 15 days
Process:
Give the drip tray and pod setting a
Wipe the external surface with a soft
Rinse the needles followed by a wiping
Give the water tank a with
Let them go through cleansing as we described earlier:
Frequency: Once every 90 days.
Clearing the Water Reservoir
If the brewer is likely to remain unused for long, you need to drain the reservoir. Thus, the reservoir will be protected from mold growth.
Keurig K200 vs K250
Keurig has been manufacturing models after models of brewers. So, it's not easy to distinguish between all the models.
Also, Keurig has a history of producing back-to-back models that look like identical twins.
But that is quite not the case when you dig deeper and look into the fine details.
This characteristic of being identical applies to Keurig's two consecutive models K200 & K250.
So, what are the things we should look for in choosing between them?
We aim to answer the questions in this article.
Moreover, We will discuss the pros & cons they come with and their numerous features.
Then, you can make up your mind about which machine was produced for you.
Let's take a trip deep down the Brewer Valley!
A Comparative Quick Study
| | | |
| --- | --- | --- |
| | Keurig k250 | keurig k200 |
| Model | 2.0 | 2.0 |
| Water Container | 40 oz, removable | 40 oz, removable |
| Number of Sizes of Brew | 8 | 11 |
| Strength Selection | Accessible | Accessible |
| | 2 filters, descaling solution,4 K-cup Pods | 1 filter |
One cannot help but notice that this differential study has pointed out only three differences in one single aspect; that is the accessories.
Among the things the K-250 exclusively offers, you've got to like the supplied k-pods. Especially, when you have run out of pods, these samples seem like a great present!
Decorations
The colors these brewers bring into your kitchen are just absolutely marvelous. Also, The K200 has an upper hand in this aspect since it is the one with more variety of colors.
The touchscreen displays are all the same in these models. They are simple and user-friendly.
When it comes to size, these two machines will surely please you since they occupy less space than the previous models.
In the process, they had to be made taller. If I am to be specific, it's 14 inches.
Customization
The most impressive developments in K200 and K250 are that they let you customize.
You can control the brew strength, give the brews 9 different sizes, and be facilitated with a nice high-altitude setting. Both these machines let you enjoy these comforting features.
You can enjoy a delicious cup of hot in a chilly afternoon in less than a minute, and all you have to do is tap a few buttons on the screen.
Versatility
Both these makers can make carafes outside of their usual single serving ability.
They are compatible with k-carafe, k-mug, and k-Vue pods. So, you can plan on a get-together in your place, and entertain your friends with some deliciously brewed carafe.
But you will have to buy your carafe and spare separately. For they are not included with the unit.
Verdict
If you already have the extra accessories the K250 is packed with, then it wouldn't be wise to buy it anymore.
If you don't possess them, go for the K250 for it will save you some works.
Frequently Asked Questions
What are the colors available in K250?
The available colors in K250 are White, Black, Blue, Pearl, Red, Gray, Turquoise, and Oasis.
Is it compatible with any pods other than the K2.0 ones?
No, it is not. However, if you can try a little bit, you might be able to find a way of using other pods.
Are the Keurig 2.0 pods reusable?
Yes, they are. But they might not produce the same results as they did on use.
What is the size of this brewer?
It has a size of 13.7" x 9" x 15".
Does it come with an auto-shutoff facility?
No, it doesn't have that feature.
Final Word
Keurig K250 is defined with a very elegant slim look. The attractive colors it comes with add to that elegance.
But you can't enjoy the flavors from any roasters other than K2.0 pods.
Then again, its ability to customize the strength of the brew and brew size will let you experience a variety in your .
Therefore, buying a Keurig K250 will be a smart choice.
You May Also Like: