Cold brew coffee is an excellent alternative to the regular hot coffee you drink every day. The amazing part is it has most of the yummy goodness of the hot brew; however, it contains less acid and is not as bitter. You can switch up your coffee game and see how cold brew coffee compares to hot brew.
Find out all about cold brew coffee, including how to brew it and the best brands out there. 
Cold brew coffee is simply coffee brewed without any form of heat whatsoever. This form of brewing involves mixing the coffee and allowing it to steep in the refrigerator before sieving. Cold brew coffee tends to have a richer, chocolatey taste than hot brew coffee.
Cold Brew Vs. Hot Brew Coffee
Although cold brew and hot brew coffee contain the same active ingredient (caffeine) and provide you with similar health benefits, there are slight distinctions. For one, cold brew coffee lasts much longer than hot brew since it goes stale at a much slower rate. 
Another distinction is that cold brew coffee helps shave off some time from your morning routine. It is coffee on the go with none of the funny stuff you get served in restaurants. On the downside, cold brew coffee requires almost twice the amount of coffee beans to make the same quantity of coffee as hot brew coffee.
Best Coffee Roast for Cold Brew Coffee
You can use three types of coffee roast for your cold brew; light, medium, and dark roast. However, coffee drinkers remain divided on which is best for cold brew. If you ask us, we will tell you all the roasts taste great when brewed cold.
If you love your coffee with milk or cream, you can opt for dark roast cold brew coffee. They require less steeping time than the light roast. However, the flavors can become overwhelming if left to steep for too long.
You get a rich, earthy tasting flavor profile akin to chocolate and nuts with dark roast. The flavor remains even after milk or cream is added. You can choose to enjoy your cup of joy as it is (black) or sweeten it up with cream and a little sugar.
Medium Roast Coffee Beans
Medium coffee beans roast delicately balance the flavors and aromas of coffee without being bitter. It is almost the best of both worlds (dark and light roast coffee). We recommend using an extra coarse grinder to crush the coffee beans for best results. This will help maximize the flavor during extraction.
You can enjoy your cup of medium roast coffee with a bit of milk or cream if you so desire. Most people, however, love to savor the flavors of the coffee without any additives like milk, cream, or sugar.
Light roast coffee beans have a more delicate flavor that proves tricky to extract during cold brewing. However, the trick is to allow the beans to steep for longer and use a cold drip coffee maker. If you try these and it still doesn't yield the desired results, try changing your grinding method.
There is no right or wrong coffee roast to use for cold brew. So feel free to explore the different roast types and find one that works for you.
Best Cold Brew Coffee Brands Today
Now you know the difference between cold brew coffee and hot brew and the different roast types. Seeing as there are a lot of brands out there, we thought to simplify things and show you some of our favorite. So here goes; here is a list of the best coffee for cold brew today.
Bones coffee is simply to die for. It is made with the finest Arabica beans meaning that you get the purest form of coffee possible complete with low acid levels. The S'mores flavor added to the beans leaves you with a cup of strong coffee with an addictive flavor and a delicious aroma that takes you back to your youth.
Another thing to love about Bones coffee is that it provides you with alternatives. You can opt for keto-friendly or vegan options with no added carbs or sugar. If you want to start your day with a cup of strong milky goodness, then this coffee is for you.
          Pros
It doesn't have an overpowering taste
Made with premium coffee beans with no added carbs or sugar
It has a subtle sweet taste that is not overpowering
No artificial aftertaste
Perfect for cold brew
Costs less than $22
          Cons
Some people find the coffee too strong
Cafe Du Monde coffee chicory is not your average cold brew coffee. It is made with dark roasted coffee beans that give your blend a bust of deep, rich flavor. If you enjoy your coffee black with strong, rich flavor, then the Café Du Monde Coffee Chicory is for you.
If you find the dark roast coffee too strong for you, you can try out the medium roast coffee. For best results, brew this coffee with a French press; it opens up a whole new whole of scintillating flavors.
[amazon box="B0000E5JIU" template="horizontal"]
          Pros
Made with premium dark roasted coffee beans
Suitable for use with French Press
It offers you two roast levels to pick from
Perfect for cold brew
It has a strong, earthy, and robust flavor profile
Zero artificial aftertaste
          Cons
Limited for use with the French Press Machine
Koffee Kults is a family-owned dark coffee maker that rose from the shores of Hollywood. Over the years, they have expanded their operations from having just one roaster to many big roasters that produce the excellent coffee blend we all love and enjoy.
It steeps well in cold water and releases a burst of flavor with a hint of cocoa and cinnamon. Just inhaling the solid earthy smell is enough to get you in the mood to face the day ahead.
          Pros
Fresh, roasted coffee made with 100% gourmet Arabica coffee beans
Rich taste with mild cherry, walnut, and dark chocolate flavor
Great as cold brew or hot brew
Strong, smooth flavor with zero aftertaste
          Cons
It is expensive; it costs almost $30
Lifeboost medium roast coffee is a firm favorite of many people because of its rich taste and low acidity. You see, this coffee is easy to brew and doesn't leave an artificial aftertaste in your mouth. Instead, you get to enjoy undertones of fruit and chocolate with every sip. 
Lifeboost coffee is suitable for everyone, including stomach sensitivity, because of its low acid content. Trust me; this coffee is worth every penny; try it out today.

Subscribe to our monthly delivery plan and get
exotic coffee to your door!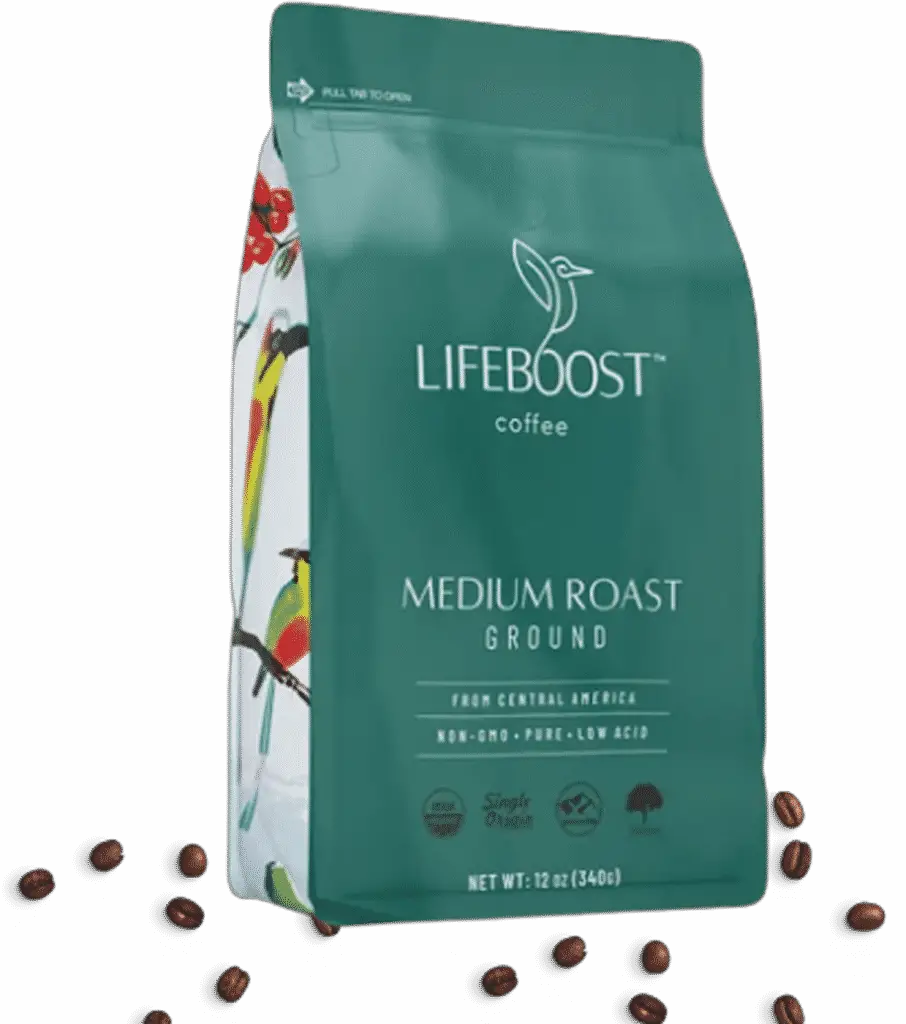 Pros
Made with high-quality sun-dried coffee beans
Great taste; zero artificial aftertaste
Reduced acidity
Easy to grind and brew
Fairly priced
          Cons
Costs almost $50
Few people report needing to chip the coffee beans apart
We are all about things that make life easier for our readers, and so, it would be a great disservice to skip Stone Streets Cold Coffee Brew. The pack contains dark coffee beans roasted finely and ground using the coarse grind method. The dark brown beans release their chocolate notes when brewed, leaving you with a cup of delicious tasting cold brew coffee. 
The roasted coffee beans are classified as "supremo" because they are Columbia's highest quality coffee beans. Once you purchase it, your work is to put it in a pitcher and steep it before drinking.
          Pros
Unique ready to drink cold coffee brew
Made with 100% arabica coffee
Entirely smooth with a pleasant, sweet aftertaste
Low acid content
Premium taste, strong and smooth blend
          Cons
If you are a fan of dark coffee with rich smoky flavor, try out Black Rifle Coffee Grounds. Black Rifle Coffee is renowned for its love for freedom, and this can be seen in the Italian-inspired coffee flavor of this pack. It is made with the finest Arabica coffee beans sourced from Africa, Central America, and South America.
You'll find this coffee strong, thanks to the extra caffeine it has. However, if you mind the slightly bitter taste, you should opt for another coffee type. Let's weigh the pros and cons of this cold brew Italian flavored coffee.
[amazon box="B07DTD11H3″ template="horizontal"]
          Pros
Dark coffee made with original Arabica coffee beans
It has twice the amount of coffee contained in other coffee brands
Works great as a gift
A little quantity makes a cup of awesome caffeine goodness
Costs less than $20
           Cons
Some people complain of a bitter aftertaste
Overdose can lead to unsavory health complications
Death Wish coffee brags of being the Worlds strongest coffee, capable of transforming your morning. The coffee blend transforms your morning routine and immerses you in a smooth, subtle, and chocolate flavor profile that leaves you hooked. It is made from 100% Arabica and Robusta coffee beans carefully selected from worldwide. 
Death Wish cold brew coffee comes in highly recommended by coffee lovers worldwide. The fact that each bag is organic and bursting with fair trade is another plus.
[amazon box="B006CQ1ZHI" template="horizontal"]
          Pros
It has twice the amount of caffeine found in other coffee brands
It gives your morning the extra kick
Makes a great gift for man crates 
Tastes rich and strong without being too bitter
           Cons
Some people find it too strong for their liking 
Volcanica has made a name for themselves in the coffee industry with their single-quality coffees; however, they also dabble in blends. Volcanica cold brew coffee is made from Sumatran and low-acid coffee beans. The result is the exquisite chocolate cold brew you have in your hands.
Volcanica cold brew is also sold as coarse-ground coffee, and one thing is undeniable; this coffee is strong and leaves no artificial aftertaste.
          Pros
It is affordable (costs less than $17)
Made from whole coffee beans and specifically crafted to be cold brewed
Steeping releases the burst of remarkable flavors of the medium-roasted beans
Has low acid content
It comes in different exciting flavors
          Cons
Some people complain that it isn't strong enough
Kicking Horse makes one of the best Decaf cold brew coffee thanks to its utilization of the Swiss water process. The Swiss water process removes the caffeine in the beans in a way that both preserves the beans' natural flavors and is environmentally friendly.
The dark roast beans give your cold brew chocolate and nutty aroma and highlight the hazelnut taste. Yeah, it tastes like a cup of perfection. So if you are looking for an excellent decaf coffee suitable for cold brew, try this Kicking Horse Coffee.
           Pros
Great tasting decaf coffee
Made with the finest coffee beans
Decaffeinated via the Swiss Water Process
All the coffee beans are sourced in an environmentally friendly way 
Dark roasted beans release their flavor palate on steeping
Bizzy Coffee has snatched a place in the heart of lovers of cold brew coffee. They offer cold brew concentrate, organic coffee beans, and ready-to-drink cold coffee brew. One thing is sure regardless of the type, this coffee is simply delicious.
You can try out the different flavor profiles available; Light and Bright, Dark and Bold, or Smooth and Sweet. If you ask, we are in love with the Smooth and Sweet variant as it is perfect just by itself. If you love your coffee with milk or cream, then try out the rich Dark and Bold flavor variant.
[amazon box="B07BL58L14″ template="horizontal"]
           Pros
Pre-ground 100% Arabica coffee beans sourced from South and Central America
Smooth, natural tasting coffee
Low acidity makes it suitable for people with sensitive stomachs
Three different flavor profiles to choose from
No artificial aftertaste
          Cons
Not available in whole bean
Bonus Tip: How to Brew the Best Cold Brew Coffee
Now that you know a bit about cold brew coffee and its benefits let's look at the best way to make it. Trust me when I say that making this coffee is as simple as breathing.
Step 1: Start with getting the coffee bean. (of course; eye roll)
Step 2: Once you have the beans, add about 226g to a jar with about 2 cups of water and gently stir
Step 3: Leave the coffee to steep in the fridge for half a day or a full day. Then, strain it through a fine-mesh cloth
Step 4: Discard the solids on the strain. Alternatively, some people like to use this residue for other creative purposes
Step 5: Store the liquid in an airtight container and leave it in your fridge.
That's it. When you want to drink, pour out a cup of this yummy goodness and add milk and cream to your taste.
So, you see, making cold brew coffee at home is not as hard as it looks. Hopefully, you can experiment with the different coffee brands we've listed and find one that ticks all your boxes. 
1. Can You Use Any Coffee for Cold Brew?
The short answer is yes; you can use your regular coffee beans for cold brew. However, we advise using a coarse grinder to crush the beans. Finely ground coffee beans tend to taste bitter when cold brewed.
Yes, it is just as healthy as hot brew coffee. It contains all of the nutrients hot coffee does and offers you the same health benefit. The significant difference between cold and hot brew coffee is that the cold one is less acidic and may be easier on the stomach.
3. Is Cold Brew Tastier than Hot Brew Coffee?
Yes, some people believe that cold brew coffee tastes better than regular coffee. One reason for this may be the reduced acid content in cold brew. Thus, there is less need to mask the sour, acidic taste with milk, cream, and sugar.
4. Do You Need a Special Equipment to Make Cold Brew Coffee?
No, you don't need any special equipment to make cold brews. Any pitcher with a tight-fitting lid to keep out oxygen will do. However, if you have a bit of money to spare, you can get a cold brew coffee pitcher that can hold the coffee beans in a filter. It eliminates the need to filter the brew after steeping. 
5. Why Does My Cold Brew Taste Bitter?
One reason for your cold brew coffee tasting bitter is over-extraction, also known as over-brewing. Simply put, you let the ground beans steep for too long. Another reason is that the coffee beans were ground finely. So next time, try using a coarse grinder to crush your beans and limit steeping time.
Benefits of Cold Brew Coffee
1. Gives You the Kick You Need to Start Your Day
Coffee contains caffeine, and caffeine is a known mood booster. So, it follows that drinking cold brew coffee improves your mood and gives your brain the boost it needs to begin the day. We find that drinking coffee makes me more motivated and strengthens me to tackle all of life's curveballs.
2. Boosts Metabolism & Weight Loss
Your metabolic rate directly impacts your weight. The higher your metabolic rate, the higher the number of calories you burn in your resting state. Caffeine helps boost your metabolic rate and how fast your body burns fat. A cup of cold brew coffee helps you maintain your weight or lose weight.
3. Lowers Your Risk of Heart Disease and Stroke
Cold brew coffee contains caffeine, magnesium, quinides, and phenolic compounds that help reduce the risk of heart disease and other coronary complications. Chlorogenic acids also contain anti-inflammatory agents and antioxidants. That said, a cup of coffee may help to improve your heart health.
4. May Reduce the Risk of Type 2 Diabetes
Cold brew coffee may help reduce your risk of developing chronic conditions like Type 2 Diabetes, thanks to the Chlorogenic acids contained in it. Regularly drinking cold brew coffee also helps regulate the levels of peptides in your gut and keep blood sugar levels stable.
5. May Reduce the Risk of Age-Related Health Issues
It is no secret that we become at risk of certain health conditions as we age. Chief on the list is Parkinson's' and Alzheimer's. Thankfully, cold brew coffee which contains phenylindanes, nonharman, and Harman compounds, has been linked to a lower risk of these neurodegenerative diseases.
6. Easier on the Stomach
While we can't verify this claim for sure, people have alluded that cold brew coffee is easier on their stomach than hot coffee. For them, they have little or no acid reflux when they drink cold brew coffee. Although cold and hot brew coffee both have the same pH levels, cold brew contains certain compounds that protect your stomach lining from irritation.
Many people agree that cold brew coffee tastes better than regular hot brew. We have listed our top 10 cold brew coffee brands in this article. If you are looking for a caffeine overdose, try Death Wish or Black Rifle Coffee.
Whatever your flavor choice may be, we hope you found something worth trying from our best cold coffee brew article. You can find a review of other coffees here.