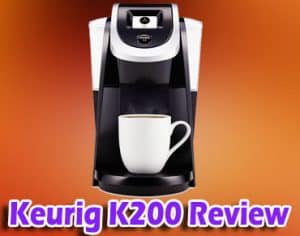 Keurig has been producing outstanding coffee makers for quite a few years now and has managed to occupy the top position in this industry.
It has really earned the customer's trust and has brought them nice experiences.
Now, is this Keurig K200 spectacular enough like the ones before it?
What are its new features that help you to make a cup of quality coffee?
Does it possess any flaws that should concern the consumers?
All these questions that might be roaming around in your mind will be answered in this post.
Keurig has brought in some innovations in this K200.
No Time To Read? Our Top Pick Here !!
Let's get into these new features along with other facts that might interest you.
Editors Choice: Keurig K200 Review 2020
Special Features
Brew sizes: 9, Water Reservoir: 40 oz, Dimensions: 15 x 9 x 13.7 inches, Batteries: 2 AAA batteries required
Though able to deliver some single servings, older models of Keurig were unable to make a carafe.
Now, this new machine has overcome that shortcoming and has come with the facility to make a bulk amount of coffee for an entire family.
Another development from Keurig this time is that it has made its pods reusable. This wasn't the case in previous models, which earned Keurig some criticism.
The price of the K200 is also reasonable enough.
There is an unpopular move made by Keurig this time though. It restricts the consumers to its own 2.0 pods by not being compatible with any other pods.
If someone wants a carafe to be brewed, it is practically impossible for them to have this carafe without a Keurig accessory.
That being said, Keurig K200 comes with some really attractive features which are bound to interest you.
No more pods getting piled up in the landfill. The new renewable 2.0 pod from Keurig is ensuring that.
Also, it provides refillable pods that allow people to have a ground of their own.
Stronger Brew, Larger Volume
In previous Keurig brewers, if you wanted to make a strong cup of coffee, you had to brew it slowly in the machine. Now it is upgraded with display options so that you can choose the strength of your brew.
Another one of the coolest new features is its carafe-making capability.
You can enjoy a coffee along with your whole bunch of guests and friends. All you have to do is choose the carafe option on the display.
You might not like to go through a lot of hassles when you feel like enjoying a good old cup of coffee. We always like our favorite stuff to be swiftly presented before us.
Well, Keurig surely does respect this mentality. You won't have to press more than a few buttons before you enjoy your coffee.
A fine feature in K200 is its display made of touchscreen that is of 2 inches. It comes with options for choosing the type and volume of the brew.
There also is an option for selecting the strength of the brew on the screen. If you are sleepy on a Monday morning, you will love to make use of this feature.
Meanwhile, if you select the strength-increasing option, your results will be much defined and will also taste better.
Beware of the jitters though, before you decide the brew strength!
This 9x15x14 inches machine really looks comforting to the eyes. The style geeks will love this machine. Designers have done a fair deal of hard work to make it look just fine.
You can keep it in a dorm room without giving up too much space. Or you could also keep it in your office or beside your breakfast table. This machine will do nothing but add to the interior design.
We certainly aren't exaggerating when we name it this way.
This thing contains 40 oz of water. You can have 4-5 cups of coffee with every refill.
It is removable similar to the previous models. That gives you access to easy fill-ups and comfortable cleanings.
Moreover, it gives you signals when its water runs too low for brewing a cup.
Pros
Environment-friendly pods that can be reused
Reasonable price
Very easy to use
Single cups, mugs, and carafes
Simple
Cons
Requires a particular Keurig carafe to brew one
Auto shut-off option absent
Incompatible with any pods other than Keurig 2.0
Brewing is slow
Technical Specifications
Water Reservoir: the capacity of 40 ounces; removable
Size: 9"x 15"x 14"
Weight: 3.4 kg
Display: Touchscreen
Sizes of the Brews:
4, 6, 8, 10 ounces in case of k-cups
12, 14 ounces in case of k-mugs
2-3, 3-4, 4-5 cups in case of k-carafes
Customer Feedback
Though a majority of people received K200 in a positive manner, there were some who complained about some of its features.
But it's normal for people to have different opinions with their various priorities. They judged this Keurig according to their requirements.
The responses from the users have been positive.
Most of the consumers like the simple way of making that K200 possesses in its system. This simple thing has been a very impressive feature for Keurig products over the years.
Customers are simply eager to know whether this machine brews nicely or not. Without any doubt, it does.
Quite a large number of the customers are not into the fact that Keurig has restricted them to pods of the 2.0 line. This is an obviously unpopular move by Keurig.
People were sharing their thoughts on how this change can be given a second thought. They want their older k-cups to be usable.
Another drawback of K200 is its comparatively slow operation.
In previous models, they took only a minute or so to brew a cup whereas it takes about double the time now. Some customers regard this as one of the cons.
A tremendous move considered by the consumers is the introduction of reusable pods.
Pods previously were increasing the garbage amount as those couldn't be degraded. Customers, who take echo-friendship seriously are sure to like this new idea.
Most of the customers are satisfied with the fact that Keurig has set an affordable price for K200.
How To Setup and Maintain
Keurig has made its products simple to use. Below I'm gonna discuss the processes involved.
Primary Setup & Brew
Before your use of the machine, you have to set it up and cleanse it properly.
Remove all the tapes around the brewer and plug it in where you feel comfortable. Keep the manual which will come in handy as it contains instructions for this model.
Have The Water Tank Removed and Clean It With Warm Soapy Water
Remove the water tank and rinse the interior of the reservoir with a sponge or soft towel and warm soapy water.
Make sure that you clean the entry point of water in the tank. For, you don't want any mineral deposit in your coffee.
(Keurig K200 doesn't come with charcoal. You will have to buy one separately.)
, hold them underwater. Rinse it for a couple of minutes. Then submerge it inside a container full of water for 5-6 minutes. Then gently rub it so that all the loose particles get off it.
Place The In the Holder and Inside The Reservoir:
You will find two parts of the holder:
A holder for the bottom part of the pod
A handle that gets flicked onto the pod holder's bottom
You need to install the on the bottom with the handle placed over it. Then have the whole thing placed inside the water reservoir. They will all flick pretty smoothly.
Have The Reservoir Filled To The Limit & Preheat The Water:
After pressing the power button, preheating is likely to be completed within ½ – 3 minutes.
Have a mug placed on the drip tray & have the handle lifted and lowered.
Choose The Option Of Brewing That Comes With Maximum Volume & Start Brewing:
Within about (1½ – 3) minutes, the internal chamber of the reservoir will be cleansed perfectly through brewing. Now, you can start using your brewer.
Regular Brewing
Take the Keurig 2.0 pod and place it in the pod holder after lifting the handle. Then have the handle lowered.
Choose the brew options you like. Settings are:
Brew volume
Brew strength
selection
Once you have chosen, touch on the BREW button.
In a while, your coffee will be ready.
on a Regular Basis
Clean the reservoir, drip tray, pod assemblage, needles & carafe:
Repetition: every 10 days
Process:
Rinse the pod assemblage & drip tray
Wipe the exterior & carafe with a sponge
Rinse & wipe the needles
Rinse & the reservoir with
Drain the water reservoir
Drain the water away if you don't use the brewer for more than a week. It will benefit you by preventing the growth of mold.
Keurig K200 vs K250 Comparison
Keurig has produced the highest-selling coffee makers around the world for quite some years now.
How many models have they marketed? Well, at least 50.
Yeah, you heard it right. Those designers must have put everything on the line to give all the models their own special features.
Sometimes, two consecutive models have come with very few differences between them. These are distinguished from each other by some fine features.
That is just the case for Keurig K200 & K250. We will elaborate on the similarities & differences they have. Then, you can make your mind about choosing between them.
Let's get started then.
K200 vs K250
First, we need to talk about size. You will find them exactly the same size!
You might be thinking, "What's going on here? Why are these machines all the same in looks but are acknowledged as separate entities?"
Well, the explanation is that they do have differences when it comes to accessories.
In only 2 characteristics they differ. These are:
A pair of charcoal
Solution for descaling
The K250 has these features. Whereas, the K200 has single charcoal, and doesn't come with a descaling solution.
We are about to show a detailed comparison.
| | | |
| --- | --- | --- |
| Model | Keurig K250 | Keurig K200 |
| Line of | Keurig 2.0 | Keurig 2.0 |
| Compatible Pods | Only the carafe & cup pods, mugs of 2.0 line | Only the carafe & cup pods, mugs of 2.0 line |
| Brew Volume | 4,6,8,10,12,14,16,22,26,30 oz | 4,6,8,10,12,14,16,22,26,30 oz |
| The capacity of the Water Reservoir | 40 ounces | 40 ounces |
| Has An Extra Water | Yes | No |
| A Keurig Carafe Included With The Packed Brewer | No | No |
| Strength Choosing | Yes | Yes |
Some Points To Be Noted About K200 & K250
Although these machines can make nice carafes, they do not include one with them in the package. A Keurig carafe needs to be bought individually.
And Keurig should have included a bigger tank than 40 Oz. Keurig actually has done better in their other products. Such as:
In K300; it comes with a reservoir having a 60 oz capacity
In K400; it comes with a reservoir having a 70 oz capacity
And In K500; it comes with a reservoir having an 80 oz capacity
Let's decide which one you better; K200 or K250.
Do you want a Keurig 2.0 that comes with the lowest possible price?
Do you own another Keurig in advance, so that you don't mind your Keurig brewer without spare?
If you don't possess a beforehand, are you ok with descaling regularly?
Is it alright with you that you have to refill your small-sized reservoir every now & then?
If the answers to these questions are positive, then K200 is the brewer for you.
Or,
If you can afford to spend a bit much dough in buying your brewer
If you want a Keurig that comes with a
Then K250 will have your requirements fulfilled.
Frequently Asked Questions
What's the wattage of Keurig K200?
It has a wattage of 1470 watts.
Does it come with the timer option available?
 No: Keurig K200 doesn't come with the timer facility.
Is a refillable cup included with the unit?
No; it doesn't come with one. You will have to buy one separately.
Does Keurig K200 come with a carafe?
No; it doesn't. The carafe should be bought individually.
Does this come with the strength adjustment option?
Yes; it does come with strength choosing a facility.
Final Verdict
Keurig K200 has gained a lot of good reviews from the majority of the customers, for sure.
But some consumers weren't very delighted about the exclusive compatibility with K2.0 pods.
Nevertheless, in this price range, no other makers can come up with a quality like this one.
Keurig K200 is affordable, simple to use, eco-friendly, and a fine single server as well as a perfect carafe maker.
It will be totally worth having one.
You May Also Like To Read: