Having a maker is a must for corporate offices and businesses. If you have a team of 10-20 in the office, a nice and smart espresso maker can play the role of a powerhouse.
In order to keep your teammates at their top levels, you might not be spending a fortune. We mean, there are still some ways out where you can make it happen within a short cut.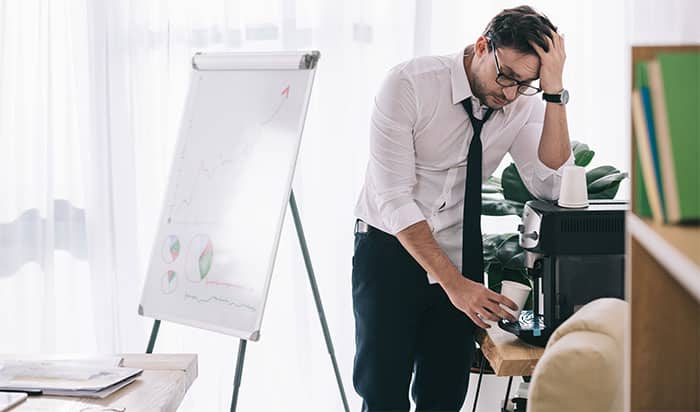 So, what are those ways? How would you know if a coffee maker machine is right for the demand of your office?
Stay along with the article till the last, we will explain everything to you.
The Basics of Buying A Coffee Espresso Machine for Office
Espresso coffees are one of the most popular brews of coffee across the globe. So, it's an obvious fact that they come in a number of prices, types, functions, and sizes.
Therefore, a number of facts are needed to be in your mind to make the right choice. See the buying factors below-
Understand The Number of Servings
As we are talking about coffee machines for an office of 10-20 people, that's quite settled. But what will be the number of servings each day? Are you office mates likely to consume 3 cups of coffee/person? Or the number is higher or lower?
A generalized assumption for this figure is 30 cups per day. We hope, you have also the same estimates also.
Once you figure out the number of servings, let keep an eye on that, and find out which machines are able to provide that under various specifications.
The Automation
When it's about the choicer of an espresso machine for the office, you have to make a choice between these three-
Automatic espresso machines.
You see, automation takes its price when it comes to the cost. Semi-automatic espresso machines and automatic espresso machines are preferred in case you run an office with one shift(8 hours) only.
In case your office is going to run for 2 shots, you have to keep the machines in action for 16 consecutive hours. There comes the essence of super-automatic coffee machines. These will eventually, take a greater price for you as well.
The Quality of the Servings
Usually, espresso machines serve coffee shots that size from 2oz to 4oz. There is no way to have larger cup sizes, as that's the core property of espresso coffee itself.
In case you need to have added flavors and add-ons like foam, or cream, that would cost you some extra money for sure. But if quality and tastes both are on your priority list, that you won't mind spending those extra bucks.
3 Best Coffee Espresso Machine for Office (10-20 people)
Alright, so we've had a glimpse of the essential buying factors while you're up for picking up the right espresso maker for your office. To give you a hand in the process, we've made up a list of the 3 best coffee maker recommendations. We've explained the features and specs in brief, and hopefully, that will help.
1 of 3: Gaggia Accademia Espresso Machine
The last pick of the list of 3 is Gaggia Accademia Espresso Machine. If you and your office colleagues are strictly in love with espresso, this machine will take over the role of a barista.
Before explaining further the specs of this, let us inform you that the price point of this model is quite high. You've to spend around 1.5 grand to own this model. And there are enough of the reasons for such high price as well.
Gaggia Accademia Key Features
Adjustable dispenser height.

Ceramic burr for finer grains.

Can serve up to 7 to 10 cups at once.

Pre-brewing system for saving uptime.

Can accommodate a wide variety of cup sizes.

Highly durable, made of all-metal.
2 of 3: Nespresso VertuoLine Evoluo Deluxe
You might have noticed that we've published an entire review of Nespresso's VirtuoLine Evolue. Well, it's that famous for office and commercial maker purposes that we had to.
However, this maker is a tidy, convenient, and pretty much efficient model within budget. It can serve espresso from 1.35oz to 2.7oz(double espresso). In terms of automation, it's an automatic maker. Although the servings are single, the serving frequency is very fast.
With the 54oz tank, you can store up to 35-40 servings every day, which pretty much matches with what we need for an office of 10-20 persons.
Nespresso VertuoLine Evoluo Deluxe Key Features
Versatile automatic maker.

Single serving, with serving sizes of 1.35oz and 2.7oz.

Can also serve Gran Lungo, and Alto as well.

54oz extra-large water container tank.

Comes in 5 different color choices.
You May Also Like To Read:     Nespresso Evoluo Review With Buying Guide
3 of 3: De'Longhi Nespresso Inissia Espresso Machine
If you're willing to stay within a budget, De'Longhi Nespresso Inissia Espresso Machine can be your go-to choice for the office. Especially, if you're willing to do one refill in a day, the 24oz tank is ready to serve you at its best.
The best part of this machine is, however, the serving frequency. For every nine servings at a time, this machine requires only 25 seconds. No matter it's regular office hours or an office party, this little jackpot will be serving you.
It's programmable and you can adjust the cup sizes that the coffee will be served in.
De'Longhi Nespresso Inissia Key Features
Barista grade, professional coffee serving machine for the office.

Can deliver 9 servings within a time of 25 seconds.

Adjustable and programmable cup sizes.

Serves in cups sizing from 1.35oz to 5oz.

Contains a 24oz tank to contain the water.
You May Also Like To Read: