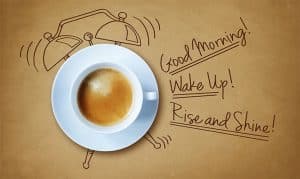 Many of us are in the habit of drinking a delicious cup of coffee to start off our day. 
But is a cup of sweet coffee enough to start out your day? 
Well, it's a tough question to answer with one word. The coffee itself boosts up the energy. But when it comes to its sweetness, there are a few things that you must take into consideration.
What Is The Best Time to Have Your First Cup Of Coffee?
You might have noticed that a good, tasty cup of coffee doesn't give you the same boost of energy each time you drink it. 
But in the morning, things seem to be a little different. You can see, you're up after 6-8 hours of sleep. And your cortisone levels (explained in the next section) are at their peak levels.
Having a coffee breakfast within 30-50 minutes of waking up will give you a bit of a kick. A journal study in 2009 says that the best time to drink your first cup of the day is around 8 to 9 am.
The cortisone count of the body is also high between 12 pm to 1 pm, 5:30 pm to 6:30 pm as well.
This also shows us the recommended times to drink the other 2-3 cups of the day.
Sweet and Caffeine: How Do Our Bodies React To Each?
To understand if a sweet cup of morning coffee is right for you let's break down the key tastes of a coffee into sweetness and caffeine. 
Our Body's Reaction to Caffeine
Our reaction to caffeine is intertwined with our cortisol levels. Cortisone is a hormone in your body that responds to stress and alertness.
When you are tired and stressed, the level of your Cortisone will be higher than usual.
But right after you take the first sip of a strong, black coffee, your Cortisone level begins to fall. Eventually, your body takes it as a replacement of the Cortisone and keeps you alert and strong while you drink the morning coffee.
Also, your body gets used to the regular consumption of coffee. If this happens you may need to take a tolerance break.
So, you can see, sometimes even the strongest cup of coffee doesn't help to overcome the stress. But as long as the morning coffee is considered, that's not likely to take place.
Our Body's Reaction to Sugar
According to research, it has been found that over-consumption of sugar might sabotage your happy and jolly mood.  As it has an adverse effect on psychological health, it won't give you the support to be energetic at all.
Research from Mark Hyman has been written about in his book, 'What the Heck Should I Eat?' In this book, he explains how sugar is the 'Toxic Drug Dose' for any human body.
And the sad part is, almost one-third of the American people are addicted to caffeine without knowing it.
This is also true with sugar, it gives you is a good taste. But in return, the amount of disadvantages that come with it is quite dangerous.
Should You Start Your Morning With a Cup of Sweet Coffee?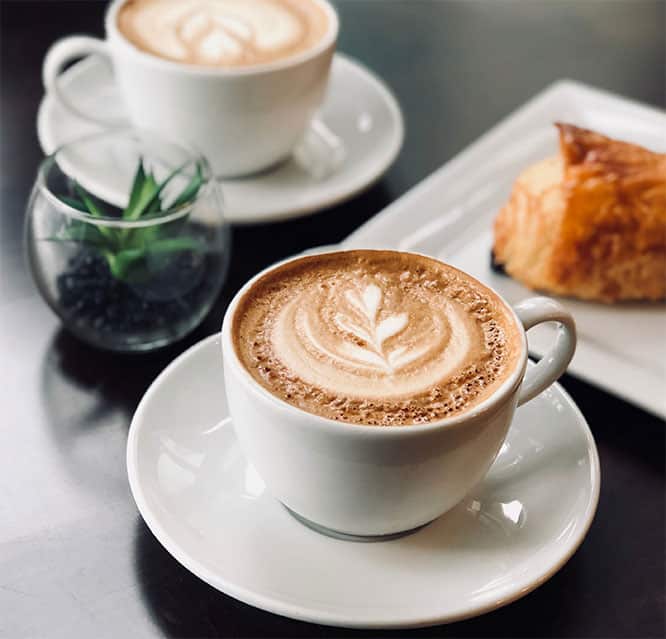 As you have seen in the previous segments, having morning coffee is great. It increases your energy, decreases your Cortisone level, and prepares you for the hectic day ahead.
But the other part of the coffee is the 'sweet', which contains frothed milk and sugar, has some questions around it.
Sugar consumption has some negative impacts on your body. Many of these impacts are long-term, and you won't notice them right off the bat.
But an instant effect of sugar consumption is its effect on your mood. If you are in the habit of consuming large amounts of sugar, this may bring on anxiety and depression. 
So, what is the final answer? Is Sweet coffee perfect for my body?
Well, that's a partially NO. Because, in a cup of 'sweet' coffee, you would have mixed both coffee and sugar together. These two things have opposite effects and can actually bring up your mood.
But if you can reduce the amount of sugar you consume by a significant amount, this can greatly impact your mood in a positive way.
So, black coffee, or coffee with calorie-free sugar (a tiny amount) will be great to start the day with.
The Bottom Line
So, that's the wrap-up. As you can see, sweet coffees are not the best thing to have in the morning. Instead, black coffee or coffee with a minimal amount of calorie-free sugar is what we would like you to go for.
Good luck!
You May Also Like To Read: