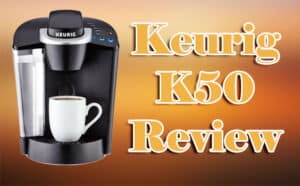 Keurig K50 is the type of coffee maker that will interest anyone who loves their stuff to be simple yet perfect.
What gave me this impression? I will explain in this article.
The things you should learn about before buying a Keurig K50 brewer will be discussed right in this post.
With Keurig producing brewers one after another, it has become quite challenging to figure out which one to choose.
Well, that's why you are here, right?
Let's invest a few minutes in going through this review which will help you to decide about the device.
Keurig K50 Review 2020 With Buying Guide
Keurig K50 is an old school machine that does a neat job in brewing. It brews hot & alongside .
It finishes the brewing job within a minute. There are no complications involved, whatsoever.
Any do-it-yourselfer can brew in this machine blindfolded.
Please be informed, a nice cup of is all you are gonna get.
There won't be any of the cool & fascinating features the later models of Keurig offer.
As far as the quality of brewing is your concern, you are in good hands.
A good thing about this classic Keurig brewer is that it is compatible with tens of different K-pods, which is not the case in Keurig's newer models.
Keurig K50 can brew hundreds of yummy flavors for you. This machine brews a cup of without you having to do much of work.
Wanna enjoy a cup of while sitting in your comfy chair, admiring a break from the world around you? Then Keurig K50 will certainly interest you.
Key Partaking Features
Here, we will talk about some of the key features of this device that will help you to make an informed decision.
If you want to how it feels to have access to a variety of K-pods, ask a K-200 user.
Variable K-cups mean high accessibility of pods & loads of flavors.
Any roaster, any flavor, you name it; good old Keurig K50 can do it all.
& hot are also on the menu to add with your pleasure.
Thirsty in a summer afternoon?  Put some ice cubes in the cup & there you will have absolute tranquillity brewed in a cup!
Rapidity in brewing is a speciality for Keurig brewers. Our little K50 isn't an exception.
It brews some quality within a minute.
In this world, where people just cannot afford to waste any time, this feature makes your life a bit easier.
I mean, this is one of the main reasons to own a brewer, isn't it? You buy a brewer to have easy access and swiftness in operation.
Basically, Keurig brewer got rid of most of the works by having K-cups do them.
K-cups are responsible for the flavoring whereas the brewers get it done with a button press.
Among the loveliest of the features of Keurig K50 is its automatic shut-off facility.
This leaves you relaxed when you get engaged with other works besides using your brewer.
Keep in mind that you may not find this feature in later Keurig brewers.
Keurig K50 has a nice display screen that comes with the button pressing control system. With this, you will be able to choose the brew mode, type of and see it on the screen.
Pros
Brews as well as other drinks
Conformable with over 70 K-pods that come with over 500 flavors
Really fast brewing
Auto shutoff facility
A drip tray that is removable
Cons
Doesn't come with any frills
No K-Mug pods compatibility
Makes noise
Weird taste at times
Specifications
Brand: Keurig
Name: Keurig K50
Water Reservoir: 40 oz capacity
Brew Volume: 6 oz, 8 oz, and 10 oz
Size: 9.8 inches x 13.3 inches x 13 inches
Weight: 7.5 lbs
Customers Feedback
It is important for you to know the experiences of people with Keurig K50. It is a crucial part in taking the decision, whether you should buy this machine or not.
We surfed around a bit and read the customer's enthusiastic comments and also the criticizing ones.
Customers basically loved this classic Keurig for its simplicity. Most of them were found impressed with the ease of using this brewer.
How very smoothly they could operate this machine mattered a lot to a great proportion of users.
However, Keurig K50 was not found very reliable to some of the customers. In fact, there were some complaints that some brewer just didn't work anymore after using it for a while.
Also, a handful of users were pissed off with the fact that they got a horrible taste in their brew. The makers must address this issue soon. Otherwise, it might give them a bad reputation.
In addition, there were some comments from the customers about the clogging up of the device. That might be a issue which we will discuss later.
The 48 oz water reservoir was liked by most of the consumers. You'll love the fact that it reduces your workload by being removable & large enough. As a result, you won't need to refill the reservoir very often.
Lack of fancy features wasn't a big deal to the users. They liked the machine since it is great at doing what it's meant to do, which is brewing a perfect .
How to Setup and Maintain
Keurig maker offers simplicity in using it. Involved processes are:
Primary Setup & Brew Purifying
Here is a step-by-step guide to setup and brew purifying:
Step 1: Unbox the machine & have it plugged in
Get the tapes around the brewer off; plug the brewer in where it befits. Don't get rid of the manual for it provides valuable instructions for the specific model.
Step 2: Remove the water container and it with water &
Have the container removed. Then the inside of it with water & . Use a soft piece of cloth or a smooth towel for gentle rubbing.
the water entry hole carefully. So that no intruding tiny materials can get inside.
Step 3: Make your charcoal go through some purification
Place the under tap water. Have it rinsed for 1-2 minutes. Then have it soaked by drowning it in a water container for 5-6 minutes.
Give it a gentle rubbing so that no loose material stays attached to it.
Step 4: Adjust the in the holder and put it into the water tank
There are mainly 2 parts that the holder is made of:
A pod holder for the pod's bottom part
A handle that is perfectly fitted onto the bottom of the holder.
Adjust the into the bottom. Put the handle over the . Pour everything into the reservoir. These will all be flicked perfectly.
Step 5: Fill the water container up to the upper limit & give the water a preheating
Once you press the power button, water will be preheated in 3½ minutes.
Step 6: Pull the handle up
Put a mug on the drip tray and pull the handle back down.
Step 7: Select the largest size brew option and begin brewing
In 3½ minutes, the inner chamber will be cleansed by throwing every impurity out.
There you go. Your good brewer is ready to make some delicious for you.
Brewing
Have the handle pulled up. Take any k-cup pod and place the pod in the holder. Then close the handle.
Select whether you want a or any other .
Press BREW.
Thus, your will be ready in a minute.
Constant
Clean the drip tray, needles, reservoir, and pod assemblage:
Repetition: once in 2 weeks
    Process:
the drip tray & pod assemblage
Wipe the with a soft cloth
Rinse the needles & wipe it
the water container with
Purify the as we discussed earlier:
Do it every 3 months.
Emptying the Reservoir
Get all the water off the reservoir if it remains unused for over a week. Thus, no moulds will have a chance to grow inside.
Keurig K50 vs K55 vs K200 Comparison
The makers Keurig has manufactured are the most popular ones on the market.
What's the number of those brewer models? Not less than 50.
Yes, Keurig's designers seem to never get bored of producing their masterpieces.
So, it is quite a work to tell them apart from one another. Sometimes, a regular person might fail to do so.
Especially, when it comes to distinguishing between two back to back models, the similarities they share will freak you out. These models can only be distinguished by some fine details.
It also applies when you talk about Keurig K50, K55 & K200 in a comparative manner.
We are gonna help you identify those differences that make each of them unique.
Once you find out their pros & cons, you will be better able to make a choice among them.
Let's see it then.
K50 vs K55 vs K200
In this section, we will highlight the key points of differences that would play the most decisive roles in making your choice.
Then you will know which one fulfills your requirements.
The K50 & K55 both are exactly the same when you look at them, no difference whatsoever.
Only the K55 comes with the variety of colors, an upgrade which K50 lacks.
These colors of Keurig K55 brewer are blue, white & black. When it comes to Keurig, being the newer model, it exhibits 11 mesmerizing colors.
You don't go around making decisions about buying something like a coffee maker without knowing precisely what it offers.
So, let's learn about the features of these things .
| | | |
| --- | --- | --- |
| Keurig K50 | Keurig K55 | Keurig K200 |
| Brews coffee along with hot & | Removability of the drip tray | & movable |
| Comes with of 6, 8, 10 oz sized pods | Brewing sizes are 6, 8, 10 oz | K-cups, K-carafes & K-mugs of K2.0 line only |
| Auto shutoff | Spare charcoal | Control of brew strength |
| 40 oz water reservoir | Brews in less than 60 seconds | Touchscreen display |
| Button pressing operation | Automatic turnoff | 40 oz water container |
| Brews in a minute | Descaling facility | Reusable K-pods |
Here, we can see that K200 being the later model has been upgraded. So, you'll get a lot of new features in this one.
When it comes between K50 & K55, the later obviously outperforms the former.
Knowing about how these devices function will give you a clear idea about the differences between them.
Keurig K50
This one makes coffee fast. It is compatible with so many k-cups to let you experience hundreds of delicious flavors.
Those being said, Keurig K50 has an issue over its reliability. It was reported to get completely nonfunctioning by a few users.
If this issue can be sorted out, then the K50 is undoubtedly a fine brewer.
Keurig K55
Keurig has produced the K55 after a while of releasing the K50. It was expected that a brand like Keurig was going to correct all the flaws found in the K50, and they did.
In the K55 you won't have your brewer going nonfunctioning. It is a reliable fine machine.
The water reservoir was made bigger this time. It contains 48 oz of water.
The speed of the brewer is a bit faster than the K50. It gets the job done in about 50-55 seconds.
One of the most crucial developments was its descaling capability. Now that it is added as a feature, there will be no more deposits of the mineral.
Keurig K200
This new model is all about cool new features. Also, it is eco-friendly this time, thanks to the utilizable k-pods.
You can have a carafe in this one that was missing in the formers. But you are stuck with k2.0 pods in the process.
So, think of these pros & cons these brewers have. Then you can make a choice.
Frequently Asked Questions
Does it offer ice coffee?
Yes. You can brew a regular coffee and add some ice cubes in the mug. You can also brew coffee over powdered ice.
Do the k-carafe & k-mug pods get along with K50?
No, Keurig K50 is not compatible with these pods.
Is it only compatible with k2.0 pods?
No. It is compatible with over 60 different k-cups at least.
How long does it take to brew?
It takes a minute or less than that to brew a cup.
Final Verdict
Keurig K50 is a classic coffee maker that sees that the job is done. It is a quick worker, too.
But it is devoid of the advanced features the newer Keurig brewers offer. In this brewer, you can have only single serving coffee, no carafe.
An advantage of using this classic model is its compatibility with the K-cups from different roasters. That allows you to go around trying all those tasty flavors.
So, a Keurig K50 is worth owning.
You May Also Like To Read: